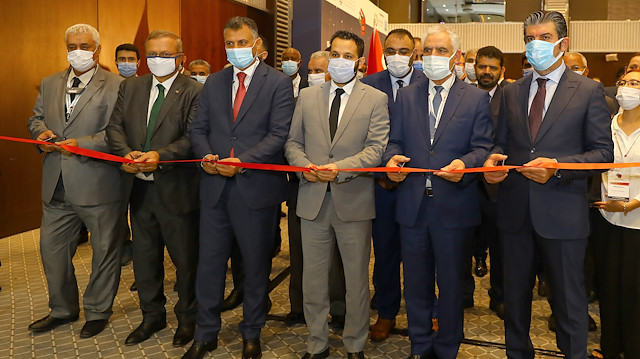 Turkish, Libyan businesspeople aim to expand trade
Turkish and Libyan businesspeople, gathering in Libya-Turkey Business Platform in Istanbul, shared strong economic and trade cooperation messages.
As part of the business event, organized by Turkey's Foreign Economic Relations Board (DEIK) on Oct. 15-16, Turkish and Libyan businesspeople are getting together.
Turkey and Libya's officials, private sectors, and NGOs joined the event, which is expected to contribute to bilateral business relations.
During the opening ceremony of the event, speakers from the two countries stressed that Turkey and Libya have the potential to realize more trade activities.
In the event, an agreement, to increase bilateral trade relations, was signed between DEIK and Libya's General Federation of Chambers of Commerce and Industry.
Mohammad Abdul Karim Raied, the head of Libya's General Federation of Chambers of Commerce and Industry, said Turkey and Libya are going through very important times in their region.
The two countries have a large trade volume and it will expand day by day, he recalled.
In 2010, Turkey-Libya bilateral trade volume, including construction and infrastructure projects, reached $10 billion, Raied noted.
This cooperation is so important, also for Libya's future and sustainability, and it can only become stronger through investors, he underlined.
Murtaza Karanfil, the head of DEIK's Turkey-Libya Business Council, said that in the event 100 Turkish producers and exporters are coming together with 200 Libyan businesspeople.
Libya is an important country and partner for Turkey in its region, and Turkish contractors have conducted projects in Libya worth $29 billion since 1972, he noted.
Turkey and Libya's bilateral trade volume was around $2.5 billion last year, he reminded, saying that the Turkish business world aims to increase this figure to upper levels.
Turkey backs Libya in energy, construction, and manufacturing sectors, and is able to complete all projects successfully in Libya, he underlined.
Basaran Bayrak, the deputy chairman of the Turkish Exporters' Assembly, said Turkey is the second-largest source in Libya's imports.
The two countries can reach $10 billion bilateral trade volume -- which is currently around $3 billion -- he added.
Bayrak also said the Turkish contractors have completed several projects in Libya, including the largest energy plants in the country.
Despite a slow down in global trade activities due to the pandemic, Turkey's exports to Libya increased in the first nine months of this year.
Exports in the sectors of defense, raw vegetable and fruit, and cement increased during this period, while the chemical, furniture, and cereals sectors made the most of exports to the country, he underlined.
#
Mohammad Abdul Karim Raied
3 yıl önce