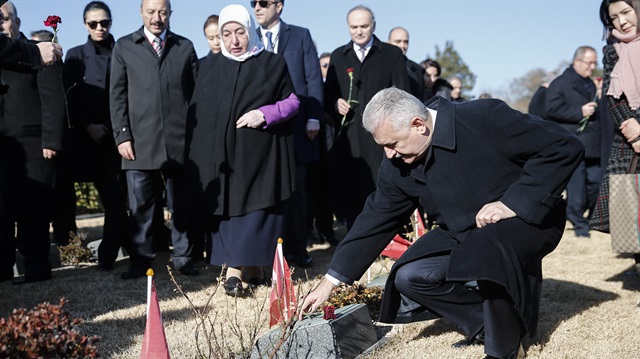 Turkey's prime minister on Tuesday visited a cemetery in South Korea that is the final resting place of 462 Turkish martyrs from the Korean War.
Binali Yıldırım, telling how "heroically" Turkish soldiers fought in the Korean war thousands of "miles from their homes," said:
"Everything was for regional and global peace." He added that the Turkish intervention in Korea made the two nations "brothers".
During his visit to the UN Memorial Cemetery in Busan, Yıldırım was accompanied by his wife Semiha Yıldırım, as well as Science, Industry and Technology Minister Faruk Ozlu, Economy Minister Nihat Zeybekci, and Energy and Natural Resources Minister Berat Albayrak.
Also present were Anadolu Agency Director-General and Board Chairman Şenol Kazancı and TRT Director-General İbrahim Eren.
Yıldırım also pointed out how the cemetery includes fallen soldiers from a number of countries who fought in the conflict, including the United States, United Kingdom, Australia, Canada, France, and the Netherlands.
His official visit to the country comes on the 60th anniversary of the start of Turkey's diplomatic relations with South Korea in the wake of the 1950-1953 Korean War.
"We are here to further improve relations between our two countries," Yıldırım told reporters.
He later left for the capital Seoul, where he is expected to meet South Korean Prime Minister Lee Nak-yeon. The two leaders are expected to discuss bilateral issues in politics, economics, trade, and culture as well as the fight against terrorism and other global issues.
Yıldırım is also scheduled to meet with South Korean President Moon Jae-in and National Assembly Speaker Chung Sye-kyun.