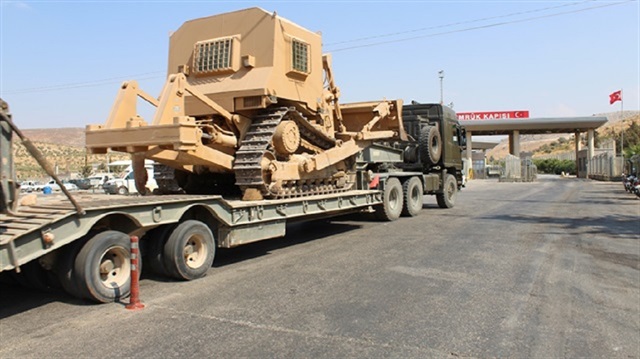 The first military shipment from Turkey to Syria's Idlib was made on Thursday. Armored vehicles and mechanical diggers moved through the Hatay Cilvegözü border gate in Turkey's southeast into Syria.
The vehicles that passed the border gate are waiting in the buffer zone.
Turkey has been preparing for an operation in Idlib for an extended period of time. Turkish troops will ensure the safety and security of Idlib's population of 2 million that has been exposed to the horrors of civil war and massacres.
The Turkish Armed Forces (TAF) instructed the Free Syrian Army (FSA) to be prepared for the operation on Monday.
The FSA and TAF conducted the Operation Euphrates Shield to improve security, support coalition forces and eliminate the terror threat along the Turkish border.