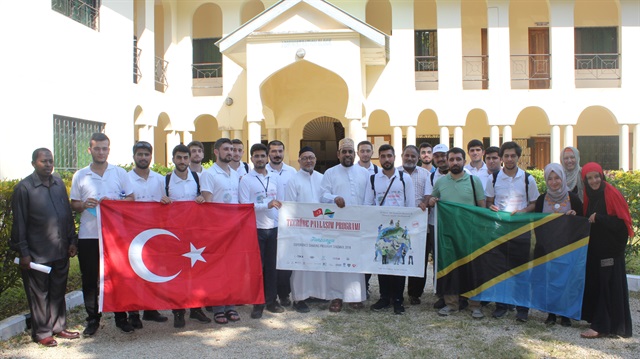 Turkish students are volunteering in Niger and Tanzania as part of a Turkish Cooperation and Coordination Agency (TIKA)'s 2018 Experience Sharing Program program.
In Niger, they carried out an activity at the Koure Giraffe Park, which was recently renovated by TIKA.
The volunteer team is visiting conservation parks in capital Niamey where they are getting to learn about animals facing danger of extinction.
Turgut Gazigil, volunteer team head, told Anadolu Agency the experience had helped him understand the wildlife situation better, especially after he witnessed a number of infrastructures made by Turkey around the city.
"All these services built in Niger by Turkey is an indication that it only aims to benefit humanity. People of Niger are very friendly with the Turkish people," he said.
Another group of Turkish volunteer students under the same TIKA program is in Tanzania where they visited the Abdulrahman Al-Sumait Memorial (SUMAIT) University and Turkey Maarif Foundation (TMV) July 15 Martyrs complex in Zanzibar island.
Prof. Dr. Amran Rasli, the Malaysian rector of the SUMAIT University, which is one of the three universities on the island, welcomed the Turkish students.
Rasil highlighted the importance of entrepreneurship, agriculture, and education projects in eradicating poverty in the country. He also spoke about the possibility of his university to organize a mutual experience sharing program and an English lesson camp for Turkish students.
The volunteers also visited the Haci Ayse Var College of TMV July 15 Martyrs complex and met Mustafa Uzun, the college director. The students also visited a museum in the old Slave Market jointly with Tanzanian students.
Turkish students also carried out volunteer work in Djibouti under the same TIKA program.
The volunteers provided 80 hygiene and personal care sets, and 40 bags of first-aid kits to villagers, who were also given training on how to use the items.
TIKA, Turkish Airlines, Anadolu Agency and Turkish Radio and Television Corporation (TRT) have jointly organized the "2018 Experience Sharing Program".
TIKA will send some 500 Turkish students from 117 universities to 30 countries between July 29 and Sept. 8, within the framework of its 2018 Experience Sharing Program. The students will take part in nearly 100 projects and activities in their host countries.
The program covers various countries of the world such as Niger, Albania, Bosnia Herzegovina, Burkina Faso, Algeria, Djibouti, Chad, Morocco, Ghana, Georgia, Cameroon, Montenegro, Kazakhstan, Kenya, Colombia, Lebanon, Macedonia, Mozambique, Namibia, Uzbekistan, Romania, Senegal, Serbia, Somalia, Sudan, Tanzania, Tunisia, Jordan, Moldova and South Africa.
5 years ago