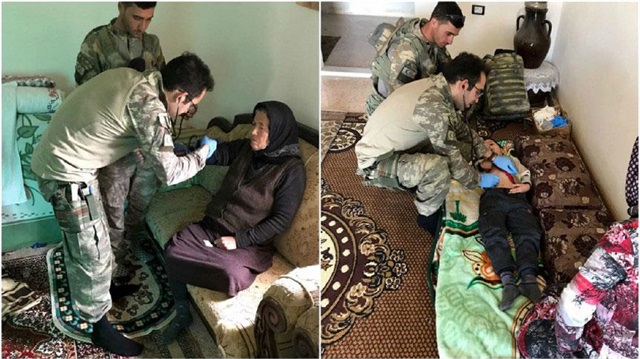 Turkish troops have given health checks and distributed medicines to civilians in the recently-liberated Hasirki village of Syria's Afrin region as part of the ongoing Operation Olive Branch.
Hasirki village, located across the southern Turkish province of Hatay bordering Syria, is now free of YPG/PKK terror group.
Civilians on Tuesday thanked Turkish military for providing them with medicines and giving them free health checks.
Turkish soldiers also took off their boots before entering the houses of civilians before they gave them health checks.
Since the launch of the operation, the Turkish military and Free Syrian Army (FSA) fighters have liberated 217 locations, including five town centers, 180 villages, 37 strategic mountains and hills, and a YPG/PKK base.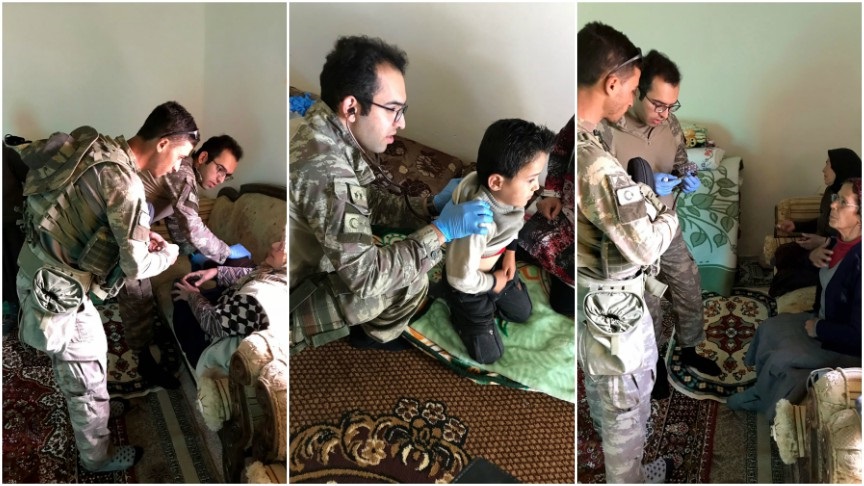 According to deputy prime minister and government spokesman Bekir Bozdağ, the operation has so far liberated 1,102 square kilometers (425 square miles) from the terrorist threat.
On Jan. 20, Turkey launched Operation Olive Branch to clear YPG/PKK-Daesh terrorists from Afrin.
According to the Turkish General Staff, the operation aims to establish security and stability along Turkey's borders and the region as well as to protect Syrians from terrorist oppression and cruelty.
The operation is being carried out under the framework of Turkey's rights based on international law, UN Security Council resolutions, its self-defense rights under the UN charter, and respect for Syria's territorial integrity, it said.
The military also said only terror targets are being destroyed and that "utmost care" is being taken to avoid harming civilians.