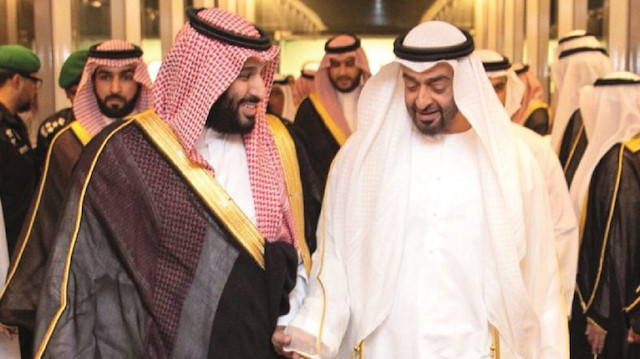 The Middle East's most bloodiest and recent conflicts bear the fingerprints of United Arab Emirates' (UAE) Crown Prince Mohammad bin Zayed al-Nahyan who, in the past few years, sought to intervene in various countries in the region in his bid to shape outcomes following the Arab Spring revolutions.
From Bahrain to Tunisia and Libya, the destructive and bloody aftermath of bin Zayed's ploys in the Middle East shows the crown prince's ruthless methods on his way to seize power and influence in the region.
Back in July, as Mohammad bin Zayed attempted to broker a reconciliation between long-term adversaries Ethiopia and Eritrea in a bid to increase the UAE's influence in Africa, offensive comments made by the crown prince ignited a diplomatic rift between his country and Ethiopia.
Ethiopian Prime Minister Abiy Ahmed has said that he refused Abu Dhabi Crown Prince Mohammed bin Zayed's offer to teach them Islam. "We don't need to learn the religion from you. You've lost the religion. What we need is to learn Arabic quickly, so we could better understand the religion and teach it to you, and return you to it," Ahmed said to Zayed in a phone conversation.
In a viral video, Ethiopian Prime Minister Abiy Ahmed was heard telling a gathering of Ethiopian Muslims in the U.S. that he had told Abu Dhabi Emir Mohammed Bin Zayed: "You can't teach us Islam, because you lost the directions to Islam."
Ahmed said he made the remarks when he asked the gulf sheikh whether he would like to help Ethiopia open an Islamic center. But "when the emir offered to teach Islam, I told him no you cannot teach us Islam, you lost faith."
MBZ's betrayal of Jerusalem
Jerusalem bore the burn for bin Zayed's pact with Israel as he funneled money into the historic old city in a bid to force Palestinians to sell properties through lucrative deals, only to later hand them to Jewish settlers.
A social media post by the deputy head of the Islamic Movement Sheikh Kamal Khateeb in June laid bare bin Zayed's true ambitions in the holy city.
"A businessman close to Abu Dhabi Crown Prince Mohammad bin Zayed is planning to sell properties and houses near the Aqsa Mosque. A Jerusalemite businessman who's working with Dahlan is supporting this man. They offered a Jerusalemite 5 million dollars to sell his property near al-Aqsa, when he refused they went up to 20 million. But even then they failed to convince the man to sell."
Mohammed Dahlan, the former security chief for the Palestinian Authority who is also known as the "hitman" of the Middle East, was the main mediator between the UAE government and an assassination squad in Yemen.
This, however, was not the first time that bin Zayed had betrayed Jerusalem. Back in 2014, the crown prince bought plots of land in the Arab towns of Silwan and Wadi Helwa. Later, Palestinian Arabs could only watch in shock as they were turned into Jewish settlements.
Khateeb, who is very familiar with the events that led to this shocking development, called on Palestinians to refrain from selling land or property to the UAE.
"Our advice to the honorable people of Jerusalem during these dangerous times is to, no matter what happens, refrain from selling their houses and properties to anyone. The UAE administration is a cancer microbe in the body of the Ummah. Nothing less than that."
However, the Palestinian people are not oblivious to the betrayals of bin Zayed. During the holy month of Ramadan this year, a group of protesters raised banners that read "we're not hungry," as a direct response to the UAE sending food provisions as part of an aid campaign to Jerusalem.
According to Palestinian figures, more than 700,000 Jewish settlers currently live on 196 settlements (built with the Israeli government's approval) and more than 200 settler outposts (built without its approval) across the Israeli-occupied West Bank.
International law views the West Bank and East Jerusalem as "occupied territories" and considers all Jewish settlement-building activity there to be illegal.
A torturer founds an army of mercenaries
Routine torture and sexual abuse are two of the horrific widespread practices being conducted in detention centers run by the UAE in Yemen, according to drawings smuggled from inside a prison in the southern city of Aden.
The drawings, which offer a glimpse into a world of human rights violations, were smuggled from the UAE-run Beir Ahmed prison where Yemeni detainees held without charge are tortured and sexually abused on a daily basis.
The UAE, a top U.S. ally in the Middle East, runs several secret prisons in the impoverished Arab Peninsula country.
A former security chief who was involved in the torture told the AP that rape is used as a way to force detainees to cooperate with the Emiratis in spying.
Emiratis arrested hundreds of Yemeni men on suspicion of being al-Qaeda or Daesh terrorists. The prisoners are being held without charges or trials in at least 18 hidden prisons.
The UAE was also behind the assassination of members of Yemen's Islah Party through an army of Blackwater mercenaries financed by bin Zayed.
It is said that the idea behind creating a special force that is directly linked to the Saudi Crown Prince was hatched following a meeting between Mohammed bin Salman and his close friend UAE's Prince Zayed.
The force, which was created with help from Eric Prince, the founder of the mercenary company Blackwater, plays an active role in Yemen.