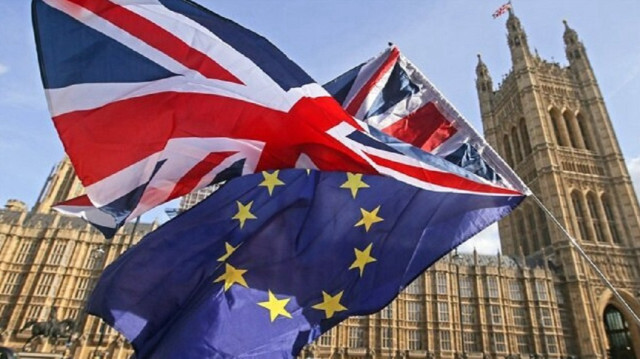 British Foreign Secretary James Cleverly and European Commission Vice-President Maros Sefcovic formally adopted the Windsor Framework, the revised version of the Northern Ireland protocol, at a meeting in London on Friday.
In a joint statement, Cleverly and Sefcovic said they met this morning "in a constructive atmosphere building on the excellent cooperation" between them in recent months.
The new deal is designed to address problems with the post-Brexit Northern Ireland Protocol, which was agreed upon by Prime Minister Rishi Sunak and European Commission President Ursula von der Leyen last month.
"The Joint Committee also covered other important issues under the Withdrawal Agreement, in particular their joint work to protect the rights of EU citizens and UK nationals, addressing all relevant issues. Both sides agreed on the importance of continuing to support these citizens, and welcomed the efforts made over the past year to do so, including additional funding provided by both sides to external organisations," the statement said.
The Windsor Framework seeks to keep Northern Ireland within the EU's trade rules while reducing inspections of some goods crossing the Irish Sea from the rest of the UK.
Goods bound for Ireland from the UK will still be subject to customs processes while those remaining in the north will not face routine checks.
The parties say they also discussed the implementation of the Trade and Cooperation Agreement (TCA) which went into effect in May 2021.
"The European Commission and the Government of the United Kingdom reaffirmed their desire to exploit fully the potential of the Trade and Cooperation Agreement, and maximize the potential of the relationship between the EU and the UK in ways that benefit both parties," the statement said.
On energy, it said: "They underlined the importance of collaboration over the past year as Europe decouples from Russian fossil fuels and highlighted the importance of dialogue on security of supply. They confirmed their commitment to progress work on the electricity trading arrangements envisaged in the TCA. They also discussed the EU Green Deal Industrial Plan."
On trade, the sides look forward to the signing of memorandums of understanding on financial services and intellectual property soon.
London and Brussels also noted their close collaboration in support of Ukraine, "and looked forward to dialogue provided for under the TCA in the areas of cybersecurity and counterterrorism."
The UK left the European Union in 2020 following the 2016 Brexit referendum, ending the country's four-decade membership in the bloc. The protocol had been a major thorn of contention between the sides.
#
Northern Ireland protocol
2 months ago