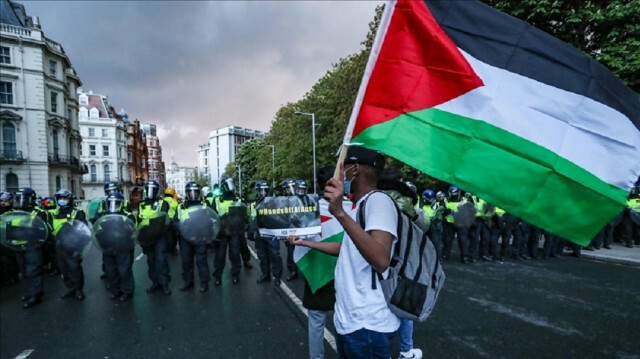 London's Metropolitan Police said on Tuesday they are investigating a female officer after a video surfaced on social media showing her supporting pro-Palestinian protesters.
"While officers are encouraged to positively engage with those attending demonstrations, they know they are not to actively participate or adopt political positions. This is vital to ensuring the public have confidence in our officers," the Met Police said in a statement.
"The Directorate of Professional Standards has been informed and are investigating the full circumstances of this incident and to determine what further action is appropriate," it added.
In the video widely shared on social media, the officer is seen to be engaging with the pro-Palestinian protesters in a recent rally in the British capital.
She is heard shouting "Free, Free Palestine" in the video.
Thousands of people rallied across the UK last weekend to urge British government to act against the Israeli air raids targeting Gaza.
At least 213 Palestinians, including women and children, have been killed and 1,442 others injured in Israeli attacks on the Gaza Strip since May 10, according to the Palestinian Health Ministry.
The airstrikes were preceded by days of tension and Israeli aggression in occupied East Jerusalem, where hundreds of Palestinians were assaulted by Israeli forces at Al-Aqsa Mosque and in the Sheikh Jarrah neighborhood.