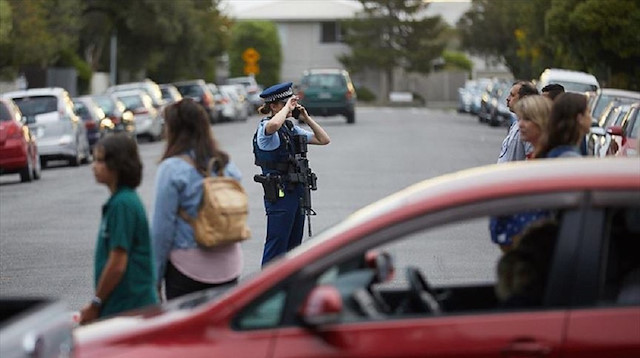 British Prime Minister Theresa May on Friday expressed condolences over the loss of lives in the "horrifying terrorist attack" at two mosques in New Zealand that left at least 49 people dead.
"On behalf of the U.K., my deepest condolences to the people of New Zealand after the horrifying terrorist attack in Christchurch," May wrote on Twitter.
"My thoughts are with all those affected by this sickening act of violence," she said.
Earlier, at least 49 people were confirmed killed when gunmen targeted two mosques in Christchurch, according to New Zealand police commissioner. Four people, including a woman, were arrested following the shooting.
Foreign Secretary Jeremy Hunt wrote on Twitter: "Our hearts go out to the people of New Zealand following the news of this terrible act in Christchurch.
"NZ is one of the most peaceful, peace-loving and generous nations in the world," Hunt said.
"Your friends in the UK stand with you today in deepest sympathy."
British Labour Party leader Jeremy Corbyn expressed solidarity with Muslim community in Christchurch and around the world after the terror attack.
"My heart goes out to the victims of the horrific terror attack in New Zealand," he said on Twitter.
"We must defeat the bigotry which fuels such hatred and violence."
London Mayor Sadiq Khan described the incident as "heartbreaking" and said, "innocent people have been murdered because of their faith."
"London stands with the people of Christchurch in the face of this horrific terror attack," Khan said.
The London mayor also said that police in the U.K. capital will be on high alert today.
"I want to reassure the Muslim communities in London. I have been in touch with the Met police. There will be highly visible policing around mosques today, as well as armed response officers as Londoners go to pray," he added.
"This is the most deadly Islamophobic terrorist attack we have witnessed in recent times," Harun Khan, the Secretary General of the Muslim Council of Britain (MCB) said.
He added: "It would seem that Brenton Tarrant's murderous intention was to target Muslims at their places of worship and on their sacred day. Reports suggested the attacker is on record spouting hate against Muslims and other minority communities."
Offering condolences to the families affected, Khan said "as the rest of us prepare to undertake our own Friday prayers today, we do so with the anxiety as to whether our mosques and communities are safe in the face of unabated Islamophobia and hostility against Muslims."
"I call on our government to redouble its efforts to ensure mosques are protected, and call on fellow Muslims to resist the temptation to roll up the banners in fear, as this attack was designed to do," he added.
"We have said time and time again that far right extremism is a growing problem and we have been citing this for over 6 years now," Tell MAMA, an NGO measuring racist hate crime in the U.K., said in a statement.
"The rhetoric is wrapped within and anti-immigrant and anti-Muslim sentiment," it said.
"Anti-Muslim hatred is fast becoming a global issue and a binding factor for extremist far right groups and individuals. It is a threat that needs to be taken seriously," it added.
The U.K.'s Board of Deputies of British Jews said they "are horrified by this sickening terrorist attack against Muslims at mosques in New Zealand."
"To the victims, the survivors, and their families, together with Muslims around the world who have been targets of rising hatred, whipped up by media hostility, we express our absolute and resolute solidarity, the Jewish board said in a statement.