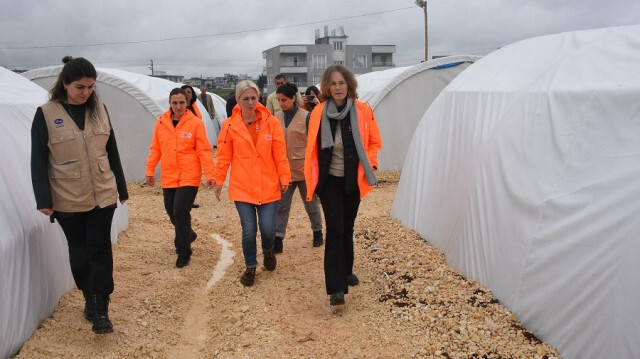 A UN official said on Thursday that the situation is "absolutely apocalyptic" in some areas of the quake-hit Türkiye and the needs are "tremendous," calling on the international community to continue to provide support.
Nine million people were directly affected by the earthquakes and are going through "absolutely terrible" situation living in tents, Florence Bauer, UN Population Fund Regional Director for Eastern Europe and Central Asia, briefed the reporters from the Turkish town of Gaziantep.
Bauer said that she met a 34-year-old woman with heavy mental and physical disabilities, who requires special care.
"She has, of course, been traumatized by the earthquake like everybody else but even more in her kind of situation, and now she's in a tent and she's basically not eating right now because of the trauma and she lost 20 kilos," she said.
"The needs are of course tremendous. We know that women and girls are always the most affected in this kind of humanitarian situation," she added.
Bauer said that there are 160,000 pregnant woman and 80,000 are expected to give birth next month in terrible conditions.
When asked by Anadolu Agency what the urgent needs are, she said that 70% of the health centers in earthquake-hit cities have been affected and are not operational.
"Being able to provide reproductive health supplies is fundamental. And that's what we want. We need to be able to scale up," she said.
"We very much count on the support from everybody to be able to continue to provide support... together with the government, UN partners and stakeholders to be able to respond to the needs girls and women in this absolutely terrible situation".
The UN's $1 billion humanitarian appeal to support the people of Türkiye who are suffering from last month's devastating earthquakes is funded at only 14%, according to the world body.
The UN launched the billion-dollar appeal for Türkiye on Feb. 16 to assist more than five million people affected by the earthquakes.
More than 48,000 people were killed in powerful earthquakes that struck southern Türkiye on Feb. 6.
The magnitude 7.7 and 7.6 earthquakes, centered in Kahramanmaras province, affected more than 13 million people across 11 provinces, including Adana, Adiyaman, Diyarbakir, Gaziantep, Hatay, Kilis, Malatya, Osmaniye, Elazig and Sanliurfa.
Several countries in the region, including Syria and Lebanon, also felt the strong tremors that struck Türkiye in fewer than 10 hours.
16 gün önce