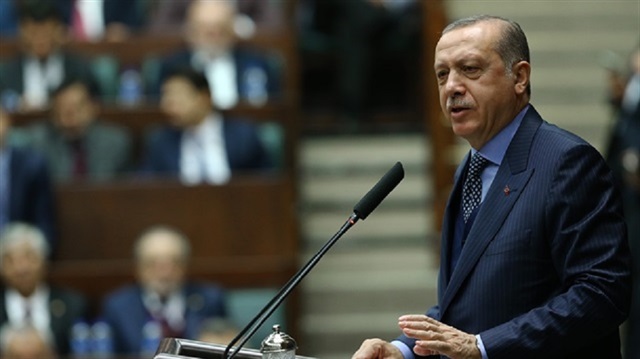 Turkish President Recep Tayyip Erdoğan, addressing his ruling Justice and Development (AK) Party on Tuesday, slammed the latest statement by U.S. Secretary of State, in which Washington expressed its "deep concerns" about the situation in Syria's Afrin, following the success of Turkey's Operation Olive Branch in the northwestern Syrian region.
"Washington says 'we're concerned' about Afrin. Where were you when we told you about our concerns? Where were you when we said 'Come, let's clear this place from terror organizations?' You said you were clearing Daesh when you were cooperating with a terror organization," he said
Operation Olive Branch was initiated on Jan. 20 in Afrin to establish security and stability, eliminate PKK/KCK/PYD-YPG and Daesh terrorists, and save locals from their oppression and cruelty.
"You say "you're our strategic partner" and then you cooperate with terrorists. This is a fact. If you were our strategic partner, you would have respected us and coordinated with us. You then tried to deceive us. You sent over 5,000 truckloads of weapons, maybe more. You made 2,000 deliveries of munitions. We requested weapons from you [to buy] with money, but you refused. Yet, you sent these arms to a terror organization for free. What kind of partnership is this?" asked Erdoğan.
The U.S has supplied the PYD terror organization with more than 5,000 truckloads of weapons to allegedly use in the fight against Daesh, despite Ankara's warnings that the group is the Syrian offshoot of the PKK terror organization.
Erdoğan also revealed that 3,647 terrorists had been neutralized since the onset of Operation Olive Branch in Syria's Afrin.
On Sunday, Turkish-backed troops liberated the town of Afrin, which had been a major hideout for the YPG/PKK since 2012.
According to the Turkish General Staff, Operation Olive Branch has aimed to establish security and stability along Turkey's borders and the region as well as protect Syrians from the cruelty and oppression of terrorists.
It is being carried out under the framework of Turkey's rights based on international law, UN Security Council resolutions, its self-defense rights under the UN Charter and respect for Syria's territorial integrity, the army said.
5 yıl önce