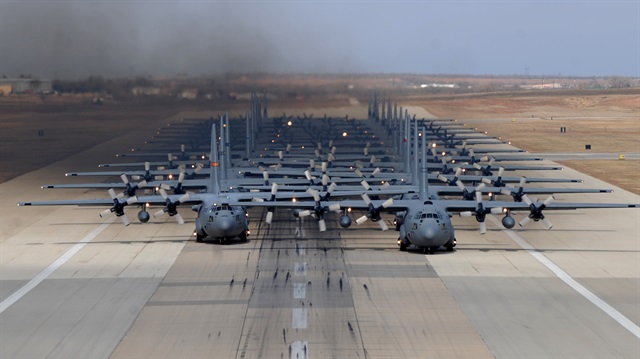 Hundreds of acres of land near the Turkish border and southeastern Syrian city of Kobane have been sold to the US military by the Democratic Union Party (PYD) for a second airbase in the city.

According to local sources, as the city is controlled by the People's Protection Units (YPG) terrorist group, an armed wing of the PYD, the US military bought the 300-acre area for one-third of real value of the land.

The US military is building a military base in Sehbet village in the southern rural area of Kobane. US forces bought another place in Harab Ishq village, 20 kilometers from Sehbet village, for a helicopter base.

A total of 300 acres of land was bought only for the pitch of the base at a reported 65-percent discount. YPG terror groups forced locals to sell their lands at this price.

Although the market price of the land is 7,000 dollars per acre, YPG forced locals to sell it only for 2,500 dollars per acre.

YPG also seized 100 acres of land around the area bought for the runway and provided it to US military as a sign of 'cooperation.'

As the United States completed the pre-process for capturing the huge area for establishing an airbase in Kobane, construction has already started, local sources said.

This will be the third US military base in the PYD-controlled area of northern Syria, following the airbases in the oil town of Rmeilan in al-Hasaka province and Sehbet village of the southeast of Kobane.

The position of the third military base is between Kobane and the Euphrates River, only 21 kilometers from the Turkish border.

The base in Kobane would be the second, after another military airbase in PYD-controlled areas in Northern Syria.