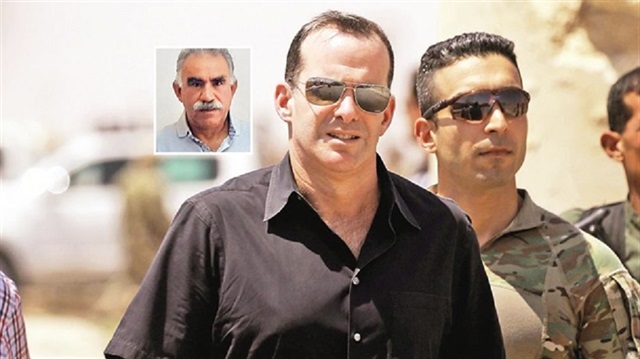 The U.S. coordinated with the Kurdistan Worker's Party's (PKK) ringleader Abdullah Öcalan regarding the terror state project it is attempting to establish in Syria's north. Öcalan sent reports from İmralı Jail via PKK terrorists Çetin Arkas, Nasrullah Kuran and Mikail Barut to U.S. Presidential Envoy Brett McGurk regarding what must be done in Syria's north.
Öcalan, who provided "consulting" services to U.S. upon its request, made suggestions such as "the Jarabulus and Azaz line must be united," "TAF should be obstructed regarding Afrin," "a confederate army should be established" and "border security forces should be established."
The U.S. had recently announced that it would form a 30,000-strong "border security force" composed of PKK/PYD terrorists in Syria's north.
Turkey's counterterrorism operations strike huge blow
The subjects sent to PKK prisoners who were transferred to İmralı Jail during the resolution period were published in the terror organization's "Free Agenda" newspaper on Aug. 15, 2015. The U.S. implemented Öcalan's recommendations during this process.
Turkey destroyed one of the most critical components of the project to siege Turkey from the south, the "merging of the Jarabulus-Azaz" line with the Operation Euphrates Shield. The second blow to the PKK/PYD and its ally, the U.S., was delivered with Operation Olive Branch in Afrin.
By entering Afrin, the Turkish military and Free Syrian Army (FSA) units destroyed ringleader Öcalan's plans to "establish ammunition workshops in Afrin," "form a war commune," and "prepare for a great war with Turkey."
"I see you as yielding"
In the messages sent from Imrali Jail, Öcalan said, "If the U.S. wants to, they can establish an army for us in six months." He likened the process of establishing a terror state with an occupation chain to the French Revolution.
"We are ready to cooperate with you not only in Syria and Iraq, but in the reshaping of the entire Middle East," Öcalan told McGurk.
The PKK ringleader often issued stern warnings to his terrorist followers.
"I see you as yielding, and if you continue in this way you will be struck down and Turkey will end you. If you remain in Afrin in this state, you will be defenseless against Turkey, which is surrounding you step by step. You do not know what you are up against," Öcalan said.
The PKK is listed as a terrorist organization by Turkey, the European Union and the United States. The PKK has been conducting armed violence in the southeastern part of Turkey since 1984. More than 40,000 people, mostly civilians, have been killed in the three-decade long conflict.