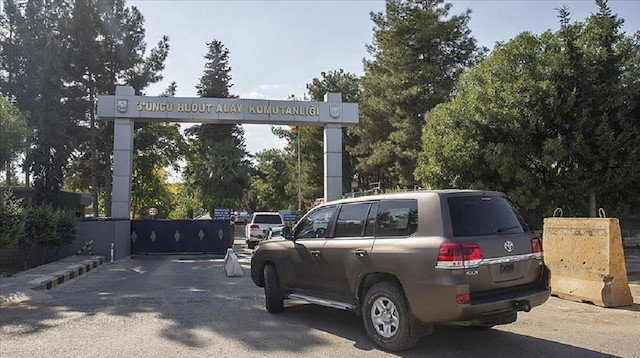 A U.S. delegation visited the joint operation center in southeastern Sanliurfa province of Turkey, the National Defense Ministry said Wednesday.
Turkey and the U.S. agreed to establish a safe zone in northern Syria in early August and develop a "peace corridor" to facilitate the movement of displaced Syrians who want to return home.
The same U.S. delegation -- Deputy Commander of U.S European Command Lt. Gen. Stephen M. Twitty and Deputy Commander of U.S. Central Command Lt. Gen. Thomas W. Bergeson -- Tuesday had visited the headquarters of the Turkish General Staff.
The safe zone agreement also envisaged setting up necessary security measures to address Turkey's security concerns, including clearing the zone of the terrorists of YPG/PKK, a group the U.S. has sometimes been allied with, over Turkey's objections.
YPG is the offshoot of the PKK terror group operating in Turkey. The PKK has killed over 40,00 people in Turkey -- including women, children and infant -- in its decades-long terror campaign.
Despite the earlier agreement, Turkey and the U.S. are not totally on the same page according to the statements by top Turkish officials.
Turkish President Recep Tayyip Erdogan on Sunday said Turkey could launch its own operation soon if the U.S. did not take any concrete steps by late September.
Hosting over 3.6 million Syrians, Turkey is the world's top refugee-hosting country at the moment and plans to settle about a million of them back to the peace corridor to be established in northern Syria.