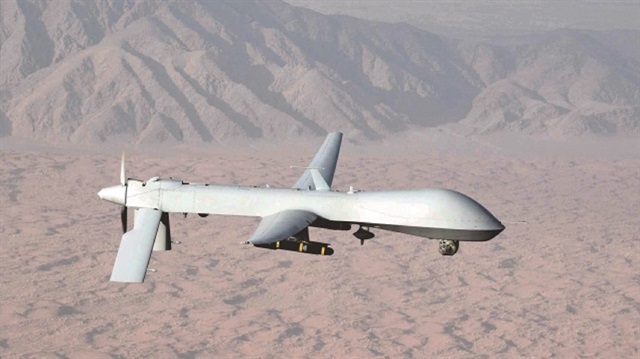 The Pentagon, having raised U.S. flags to protect the Kurdistan Workers' Party (PKK)-affiliated Democratic Union Party (PYD) terrorists from Turkish troops advancing toward Manbij during the Euphrates Shield Operation, is now preparing for a similar project of protection for the Kurdistan Regional Government (KRG) President Masoud Barzani.
The United States intensified its preparation against a possible Turkey-Iraq joint military operation targeting the area occupied by Barzani, who held an illegitimate referendum on Sept. 25.
The Pentagon, dispatching troops, ammunition and armored vehicles to the towns of Makhmur, Zakho, Zummar and Kirkuk, has sent containers including missiles, helicopters and Unmanned Aerial Vehicles (UAVs) to the Harir and Hewler air bases.
UAVs fly over region
The U.S. army is deploying trucks of ammunition to Hewler and Harir near Erbil and Soran. Among the weapons being sent are missiles and helicopters, as well as anti-tanks and anti-aircrafts. The Pentagon also dispatched a great number of unmanned "Predator" vehicles, which can carry rockets, to the region. The UAVs belonging to the U.S. are conducting observation flights in case of an operation to Northern Iraq.
Preparation for regional war
An Iraqi retired general, evaluating the U.S. build-up in Northern Iraq, said such a large shipment could only be interpreted as the preparation for a regional war. "The United States, having armed the PYD in Syria for two and a half years, will deploy its own troops near the Turkish and Iranian borders in Iraq," he said, adding that the U.S. attributes special importance to Kirkuk.
Noting that the United States sent troops to Iraq in 2014 under the pretext of fighting Daesh although it had decided to withdraw in 2011, the general stated the number of U.S. soldiers, which was around 3,700 in February, is now more than 10,000 following the recent shipments.