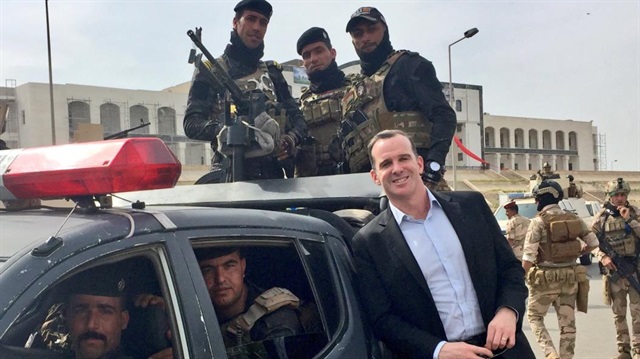 Brett McGurk, special presidential envoy for the Global Coalition to Defeat Daesh, visited Iraq's Mosul on Thursday in a move seen as part of a ploy before Baghdad's May 12 election. McGurk has held a series of meetings in Erbil, Sulaymaniyah, Baghdad and Mosul.
"McGurk's activities deepen instability and sow seeds of unrest. The U.S. has extended its hand into our ballot box. It's a dangerous development for Brett McGurk's number of meetings to rise a month before the elections," said Fayha Bayatlı, a former Iraqi member of parliament in an exclusive interview with Yeni Şafak daily.
"The U.S. and European countries always want chaos to prevail in Iraq. They all take advantage of the instability in the region. Iraq's Central Government made a series of decisions regarding Kirkuk and Mosul and took military, political and economic steps. We know that the U.S. and Western bloc is disturbed by these decisions," Bayatlı added.
Pushing for KRG secession
"McGurk is meeting with figures who want division in Iraq and support the West's interests. He held meetings with Kubat Talabani, Nechirvan Barzani and top members of Hashd al-Shaabi. These dirty ties are a part of the web formed in 2014 under the guise of Daesh. The regional project of a division map and reigning terror was actualized by McGurk," said Bayatlı.
Hashd al-Shaabi is a Shiite militia group in Iraq with hundreds of members positioned in Mosul.
"After the failed Sept. 25 referendum, a new push for 'Kurdistan' led by the U.S., Britain and France may arise. This time, they will work together with Barzani, Talabani, Goran and other Kurdish groups. We see McGurk's meetings as the first steps. If regional countries and local elements lose their vigilance, new moves will come for the independent 'Kurdish state' project," Bayatlı added.
The Kurdistan Regional Government (KRG) on Sept. 25 held an illegitimate referendum in an effort to declare independence from Baghdad.
U.S. plundered Syria and Iraq
"The English formed the grounds for occupation when they came to this geography in 1918 based on Turkish enmity. The U.S. is continuing this tradition. The country has been largely ruined and the natural resources of Iraq are being exploited by imperialist powers," Bayatlı said.
"The number one perpetrator of exploitation and massacre is the U.S., which seeks to justify its actions by creating an antipathy against Turkey among the Kurds and Arabs. McGurk was appointed as the latest representative of this understanding. His basic strategy is to continue to plunder the wealth of Syria and Iraq and form space for the U.S. and its allies by using opposition against Turkey," she added.
Iraqi politicians on Saturday officially began electoral campaigning for next month's parliamentary election. A total of 24 million Iraqis are eligible to cast their ballots to elect members of parliament, who will in turn elect the Iraqi president and prime minister.
The polls are the first to be held since last year's defeat of Daesh terrorist group after a three-day war, and the second since the U.S withdrawal from Iraq in 2011.
The vote is the fourth to be held in the Arab country since U.S.-led forces invaded Iraq to topple the regime of Saddam Hussein in 2003.
6 years ago