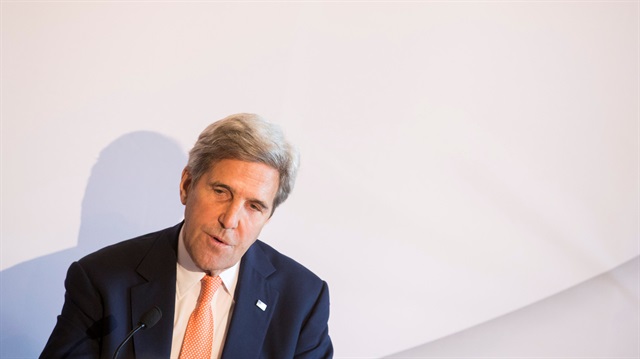 Former Secretary of State John Kerry ripped America's sitting chief executive Wednesday, calling President Donald Trump's criticisms of NATO and Germany "strange" and "counterproductive."
"It was disgraceful, destructive, and flies in the face of the actual interests of the United States of America," Kerry said in a statement released shortly after Trump's haranguing of the transatlantic alliance and singling out of Germany during a summit in Brussels.
During the meeting of the 29-member alliance Trump suggested Germany is "totally controlled" and "captive to Russia," pointing to its use of Moscow's fossil fuels.
"I think it's very sad when Germany makes a massive oil and gas deal with Russia, where you're supposed to be guarding against Russia, and Germany goes out and pays billions and billions of dollars a year to Russia," Trump said. "Why are countries in NATO, namely Germany, having a large percentage of their energy needs paid to Russia and taken care of by Russia?"
He later reiterated his criticism on Twitter.
Trump also took aim at "delinquent" NATO members' defense spending, calling on allies to not only meet the minimum goal of spending 2 percent of GDP on defense, but urging them to double that to a total of 4 percent.
Only five NATO members have met the 2 percent benchmark to date, including the U.S. NATO expects the number of countries that are meeting the guideline to rise to eight this year, and expects the number to rise to 15 by 2024.
Trump, however, sent a tweet from the summit insisting members "must" meet the goal, set in 2014, "IMMEDIATELY."
In repeatedly sending such pointed barbs at NATO and Germany, Kerry said Trump "is steadily destroying our reputation in the world. He is undermining our interests. He diminishes alliances we built to safeguard an economic and strategic force that has allowed millions of people to live in freedom.
"There's a time, place, and manner for raising issues with allies, and trashing them on camera in a way that calls into question the alliance itself isn't it," the former top diplomat said. "Enough. This isn't good for the United States and there are people across the aisle -- as the Senate vote yesterday clearly showed -- who know it and need to say it.
Kerry was referring to Tuesday's Senate vote that overwhelming saw the chamber voice its support for NATO amid Trump's continued criticisms.
He was not alone in questioning Trump's treatment of America's closest allies.
While refraining from directly criticizing the president, House Speaker Paul Ryan, the chamber's top ranking Republican, told ABC News "NATO is indispensable."
The House of Representatives later Wednesday approved by voice vote a bipartisan resolution expressing support for NATO.
Democratic Representative Steve Cohen, who sponsored the resolution, said its passage sends "a strong message that, no matter what the President says during the NATO Summit in Brussels, Congress strongly supports our treaty allies."
"Members of Congress understand, as our President clearly does not, the value of stability and certainty in our diplomatic relations and the threat of continued Russian aggression. I'm pleased the House has taken the step of formally stating its support for the alliance at this time," Cohen said.
Trump is slated to meet Russian President Vladimir Putin in Helsinki, Norway July 16 in what Trump said "may be the easiest" meeting on his four-nation trip.
Asked if he sees Putin as a friend or foe, Trump said the Russian leader is a "competitor"