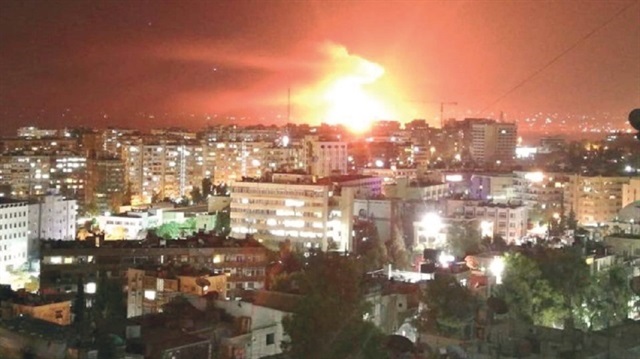 Syrian President Bashar al-Assad's army is on high alert in anticipation of a potential U.S. attack.
The U.S. is reportedly in preparation to launch strikes against more than 20 positions of Assad regime forces.
On the other hand, Israel conducted a string of missile attacks against five of Assad's military bases, including Mezzeh Military Airport, and the Syrian army's 4th, 10th and 66th division early on Sunday morning. The strikes were fired from Israeli military aircrafts in Golan Heights.
According to reports, Bashar al-Assad's brother Maher Assad was wounded during the raids, and 25 Syrian army troops and 45 Shia militias were killed, including Iranian Revolutionary Guards General Marasad al-Mizani.
US will first target major air bases
Speaking to Yeni Safak daily, Syrian army Colonel Abu Firas stated that the U.S. would first hit Assad's eight major air bases, notably Tifur and Homs airport, in case of any possible Idlib attack.
"Israel's bombings were signal flares. The U.S. in waiting in ambush for a more comprehensive attack. The Syrian army is on offensive mode against a possible U.S. attack, and the joint air defense system of Russia-Syria is on red alert," he said, adding that the U.S. was planning to strike over 20 points of the regime in Syria.
Damascus has said that the U.S. is preparing to falsify a chemical attack to justify a military operation in Syria.
U.S., British and French forces launched air strikes on Syria in response to a suspected poison gas attack that killed dozens of people in April.
Idlib and areas surrounding it are the last major enclave held by groups opposed to Syrian President Bashar al-Assad, who is is preparing a phased offensive to regain the province.
Syrian forces hide among civilians
He said that following Russia's intelligence warning, Syrian troops positioned in strategic bases in Homs, Damascus and Quneitra were being evacuated.
Stressing that Assad's forces disguise themselves as civilians, "They stay among civilians in the evenings and come back to their bases in the mornings," said Firas.
Constant vigilance at Iranian bases
Forces were placed on high alert at nine large bases belonging to Iranian Shia militias and the Revolutionary Guards at Quneitra, Deir ez-Zor, Aleppo, Damascus and Homs.
"Mezzeh was one of the most important points where the Iranian-developed Fajr missiles were positioned. Missile platforms and some Fajr rockets were destroyed on Sunday night. The Mezzeh base is being used as headquarters of Shia militias. Additionally, Fajr-3 and Fajr-5 missile platforms were deployed at the Mezzeh Airport."
"The Fajr-3 missiles have a range of 50 kilometers and Fajr-5 missile's estimated range is 80 kilometers. Hence, these missiles have the capability to strike northern Israel. There are also huge underground tunnels between Mezzeh and the Presidential Palace. They were hiding a vast amount of ammunition and weapons there, but a great deal of the missiles and artillery have been destroyed during Israel's attack."
Syria has been locked in a vicious civil war since early 2011 when the Assad regime cracked down on pro-democracy protests with unexpected ferocity.
5 years ago