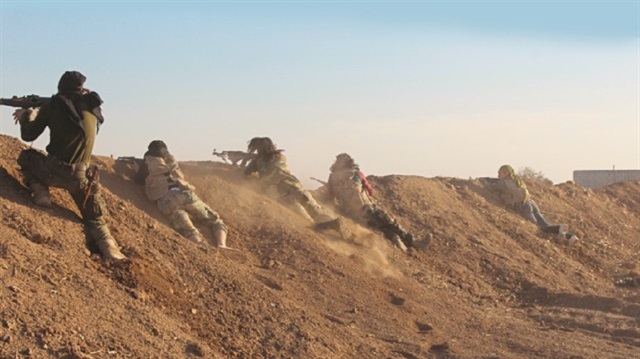 Turkey's Euphrates Shield Operation cleared the region of terrorist organizations.
Syrian regions cleared of terrorists through Turkey's Operation Euphrates Shield have now become subject to terror plots.
After the joining of the Kurdistan Workers' Party (PKK)-affiliated Democratic Union Party's (PYD) areas and counties in the Euphrates was blocked, the US started to provoke terror groups in the region.
In the regions liberated from terrorist organizations to the north of Aleppo, conflict erupted in April.
There were violent clashes between groups of the Free Syrian Army (FSA), including the Sultan Murad Division, Ahrar Songya, Faylaq al-Sham, Al-Fawj Al-Awal, Shamia Front, Liwa al-Hamza and Ahrar Al-Sham.
More than 70 opposition soldiers lost their lives in clashes between the groups. The number of opposition fighters who were injured in conflict in the same period was 165.
The ongoing conflicts in the north are fueled by the Pentagon and CIA-backed groups.
An official from the FSA spoke to
and evaluated the recent clashes.
A great effort is being shown to cause clashes between the FSA and the Turkish Armed Forces (TAF), the source said.
The opposition commander, who indicated that the conflicts between the groups were governed entirely by external forces, said that the conflicts in the north were aimed at destabilizing the region.
The source claimed that both the Pentagon and the CIA as well as Western powers were involved in the issue.
The primary target is to provoke the people by making them anxious and to aggravate the public against Turkey, the opposition commander said.
The commander added that the aim was to force the TAF to withdraw from the region so the PYD can takeover.
As the clashes between the opposition groups continued, approximately 60 opposition fighter joined the ranks of the Assad regime, including Abdullah Şileys, who was the commander of the Sultan Murad Division and had the codename Abul Khair.
Eight members of the opposition fighters joined the PYD terrorist organization.
Şileys allegedly surrendered information regarding the TAF's activities in the region, including documents and photographs, to General Suheyl Hassan of the regime's army.
Turkey's operation in northern Syria successfully concluded in March.
Turkey had been carrying out a military operation in northern Syria. Led by FSA fighters, the operation aimed to improve security, support coalition forces and eliminate the terror threat along the Turkish border.
6 yıl önce