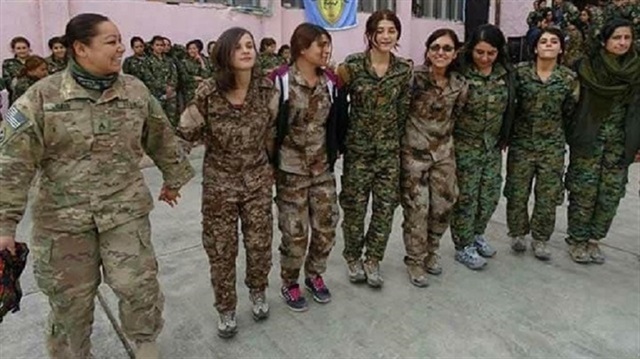 Photographs have emerged showing a female U.S. army soldier taking part in a folk dance with a group of terrorists from the Kurdistan Workers' Party (PKK)'s Syrian offshoot, the People's Protection Units (YPG).
The undated photos are said to have been taken in Aleppo's northern city of Manbij and show the soldier who is deployed to one of the American bases in Syria joining female PKK terrorists in a traditional group dance.
Manbij, one of the biggest cities in the Aleppo province, was cleared from Daesh terrorists on June 1 following an operation that was backed by the U.S-led coalition.
Following the eradication of Daesh, the city was overrun by YPG terrorists, which was met with sharp opposition from Turkey.
The scandalous photos are reminiscent of a previous incident when a photo showing a U.S. soldier wearing the YPG logo on his arm was met with widespread outrage and condemnation.
The PYD and its military YPG wing are Syrian branches of the PKK, which has waged war against Turkey for more than 30 years. The PKK is listed as a terrorist organization by Turkey, the European Union and the United States.