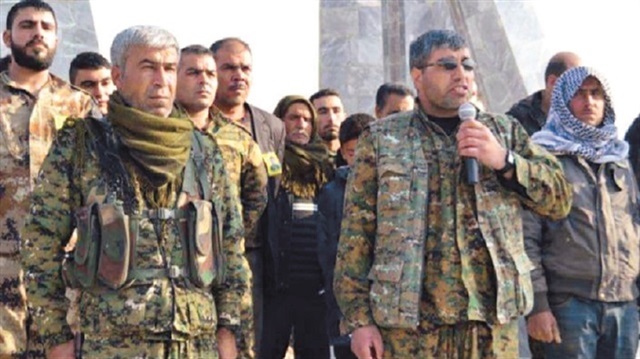 A high-ranking U.S.-trained terrorist from the Kurdistan Workers' Party (PKK), who was responsible for coordinating arms shipments sent by Washington, was assassinated in Syria's Hasakah on Feb. 5, according to Yeni Şafak sources.
Born in Diyarbakır and known as the "shadow leader" of the PYD, the Syrian branch of the PKK, Judi Amed was behind several terrorist attacks that were carried out in Turkey.
Trained by Western agents
Judi Amed, who was killed in Hasakah, first received special training by German and Belgian intelligence agents in the 1990s. In 2012, Amed headed for Syria from Qandil in northern Iraq, and during 2013- 2014, he received intense training from the CIA.
Yeni Şafak obtained information confirming that Judi Amed was the recipient of the arms and munitions sent by the U.S. through the Fish Khabour line by land, and all aerial deployments carried out through the Rmeilan Air Base.
Amed was killed shortly after he held a meeting with U.S. officials in a military camp in Syria's Hasakah.
Executed in Abu Raseyn
Due to his influential position in the organization and the ongoing battle in Afrin, PKK terrorists attempted to cover up Amed's assassination, which took place on Feb. 5.
Operation Olive Branch was initiated on Jan. 20 in Afrin to establish security and stability, eliminate terrorists of PKK/KCK/PYD-YPG and Daesh, and save locals from the terrorists' oppression and cruelty.
Amed was assassinated along with two of his security detail in the Hasakah town of Abu Raseyn, located between the towns of Tal Tamir and Ras al-Ayn, as he was travelling through the region with four of his bodyguards.
His convoy was attacked en-route by Dushka and Biksi automatic guns.
Following the assassination, PKK terrorists set up checkpoints on the entrances of the village, checking mobile phones of those passing through and deleting any footage of the attack.
As the terror group's so-called intelligence official, Amed was in contact with Assad's Mukhabarat and Iranian intelligence officials.
Supervised deployment of arms
According to Yeni Şafak sources, the deployment of arms and munitions provided by the U.S. to PKK/PYD terrorists in Afrin under the pretext of fighting Daesh over the past year was organized by Amed through the axis of Manbij- Sheikh Maqsoud- Nubbol.
The U.S has supplied the PYD terror organization with more than 5,000 truckloads of weapons to allegedly use in the fight against Daesh, despite Ankara's warnings that the group is the Syrian offshoot of the PKK terror organization.
The PKK is listed as a terrorist organization by Turkey, the European Union and the United States. The PKK has been conducting armed violence in the southeastern part of Turkey since 1984. More than 40,000 people, mostly civilians, have been killed in the three-decade long conflict.