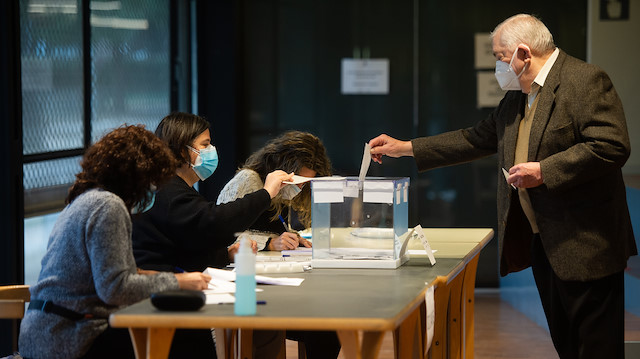 Election day has kicked off with no major incidents in the Spanish region of Catalonia, where voters cast their ballots on Sunday to determine the new makeup of the Catalan parliament.
Fears that not enough people would show up to work at the polling stations were dispelled, as officials reported that more than 99% of the polling stations were operating by 11 a.m. (1000GMT).
During the last hour of voting, thousands of citizens with active COVID-19 infections and others in quarantine will be able to cast their ballots in-person.
Poll workers will wear full personal protective equipment, nearly identical to that of frontline healthcare workers.
To reduce crowds, more polling stations were opened than ever before in places including Barcelona's Camp Nou stadium and traditional food markets. Mail-in voting also reached record highs.
The vote has not just been shaped by the pandemic, but also the continued drive for independence from Spain in the wealthy northeastern region.
Spain's Socialist Party hopes its regional candidate -- former Health Minister Salvador Illa -- will be able to secure power in the region that has been dominated by separatist leaders for around a decade.
Polls have Illa neck-in-neck with two other separatist parties for the top spot. As no party is expected to secure a majority, political pacts will likely be in order after the vote.
This week, however, the separatist parties signed an agreement that they will not support a Socialist-led government, dashing the Socialists' chances of being able to form a left-wing coalition.
Catalonia has been one of Europe's most tumultuous political battlegrounds in recent years.
In 2017, the regional government held an illegal referendum on independence and subsequently declared independence from Spain, while Spain's central government then took control of the region, charging the political leaders with crimes such as sedition and rebellion.