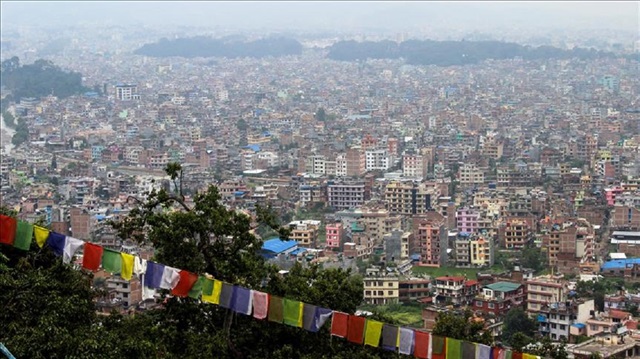 Millions of Nepalese in the country's capital Kathmandu and the southern plains are voting on Thursday in the second round of historic elections for national parliament and provincial assemblies under a new constitution passed two years ago.
The landmark polls end the country's tumultuous transition from a Hindu monarchy to a secular republic, after a 10-year Maoist insurgency that left more than 16,000 people dead.

Over 12.2 million voters are eligible to cast their ballots in over 10,000 polling centers spread across 45 districts. More than 50 parties have fielded thousands of candidates who are competing for a total of 275 seats in the new federal parliament.
Voters are also choosing 550 members of seven provincial assemblies across the country.

Voters dressed in warm clothes flocked to their nearest polling stations early Thursday, braving the morning chill in Kathmandu.

Netra Prasad Rijal, 37, a former migrant worker, voted in the neighborhood of Kapan on Kathmandu's outskirts. He said he expected the elections to pave the way for a stable administration in Kathmandu.

"People have always suffered no matter who ruled the country. We had authoritarian rule; we faced the war. I hope there will be a stable government after the election so we don't have to vote again before five years," he said.
Violence, arrests
Thursday's polls are the second after country's northern mountain districts voted in the first phase on Nov. 26.

Some 20 people have been injured in violence during the election campaign.

Anti-poll protesters have carried out bombings targeted at candidates and election rallies, exposing poor security in the runup to the polls.

A popular leader and candidate of the ruling Nepali Congress party suffered injuries on Monday in an explosion as he was canvassing for votes in his constituency in Kathmandu.

On Thursday, supporters of rival parties clashed outside a polling center in Kathmandu.

Police have arrested more than 800 people in connection with the blasts, most belonging to the Communist Party of Nepal, a faction of the Maoists, who waged the armed insurgency until it ended in a peace deal in 2006.

The polls close at 5 pm local time. Vote counting will begin immediately after, but complete results are expected only by mid-December.