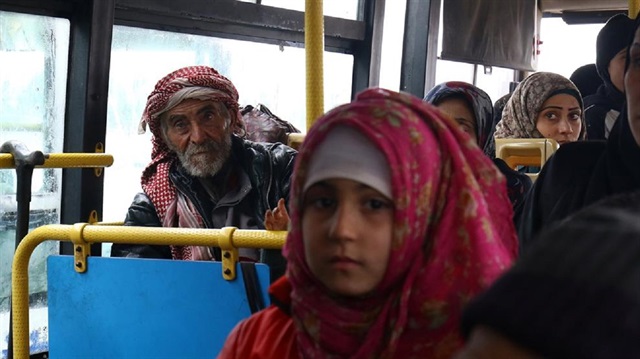 Aleppo residents are feeling both sorrow and joy at once over being evacuated from the northern Syrian province that has been under intense attacks from the Bashar al-Assad regime, backed by Iran and Russia, as they didn't have any other choice than to leave their homeland.
Muhammad Fatih Brigade, Sultan Murat Brigade and Turkmen Front Brigade commanders were among those last corteges that were evacuated from the moderate-opposition controlled East Aleppo districts.
Speaking to Turkish daily Yeni Şafak newspaper, Turkmen Front Brigade Commander Firaz Paşa and Doğan Süleyman said that they still have the hope to regain their fatherland from the regime forces.
"We are among the last six people who are leaving Aleppo ultimately. However we will return to Aleppo and fight to retake the control of our homeland," Firaz Paşa said.
"We will be participating in the operation in Syria backed by the Turkish Armed Forces against Daesh and the Kurdistan Workers' Party (PKK)-affiliated Democratic Union Party (PYD) terrorists," Süleyman said.
A 10-day-old baby, who became separated from his father, reunited with his father with the evacuation. Father Ebu Buday cried sobbingly as he hugged his baby.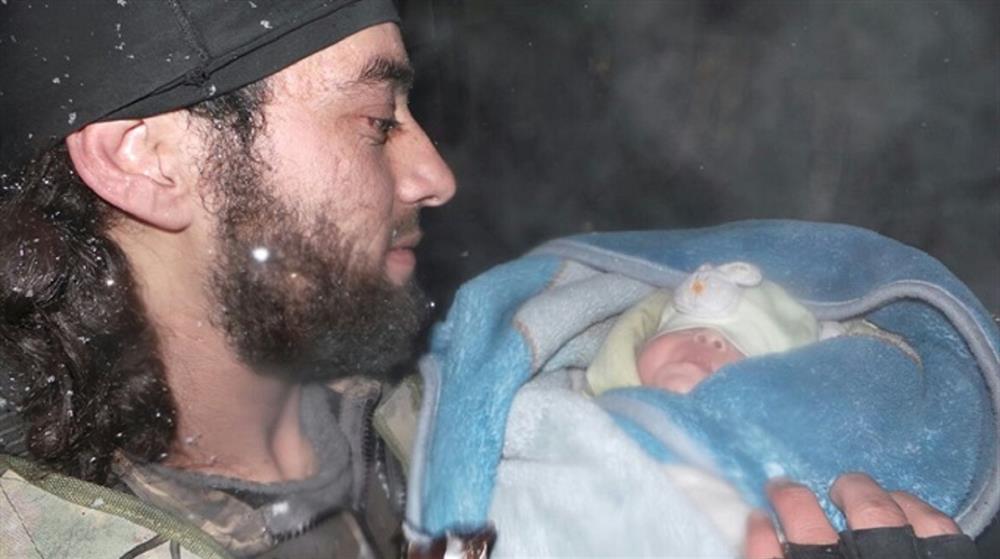 Evacuation interrupted by regime forces' harassment
During the evacuation, the forces of Bashar al-Assad regime interrupted the evacuation by opening harassment fire on the civilians in the Rashidinn district of Syria.
The regime forces also let off fireworks to celebrate what they call a 'victory' after its attacks on Aleppo.
Russia and the Iran-backed Assad regime intensified its attacks on the Syrian province of Aleppo, on November 15, although it had been launching attacks on the city for weeks.
The heavy bombardment was followed by the evacuation of thousands of people from the opposition-controlled part of the city, as a result of international efforts.
As the last cortege was evacuated from the moderate opposition-held districts of Aleppo, air strikes resumed in opposition-held areas of the countryside near Aleppo on Friday for the first time since the end of an operation this week to evacuate, said the Syrian Observatory for Human Rights on Saturday.
Aleppans suffering since 2012
Captured by the opponents in 2012, Aleppo witnessed a fierce battlefield after Iran and Lebanon's Hezbollah came to the city with armed militias in order to assist the regime. Following Russia's involvement in 2015, the war began turning against the opposition.
Humanitarian aid shipments were not allowed to be sent into East Aleppo whose connections to other opposition-held regions had been cut off since August.
Especially after Nov. 15, the assaults and airstrikes of the Assad regime and Russia had intensified, causing thousands of deaths. Then, the Aleppan people strived to raise their voice to draw international support.
Around 100,000 people were reportedly killed and 1.5 million others have left the city due to the violence since 2012.