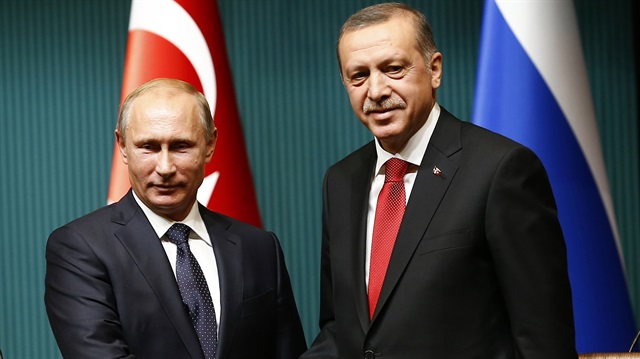 The upcoming meeting of Turkish President Recep Tayyip Erdoğan and his Russian counterpart Vladimir Putin is causing Western states anxiety, as their media outlets began to express the U.S.'s uneasiness.

Erdoğan is scheduled to visit Moscow on August 9 to meet the Russian leader, marking his first overseas tour after last month's deadly coup attempt.

The July 15 military coup attempt, foiled by the joint effort of the Turkish nation, is believed to have been orchestrated by the western nations and their intelligence agencies.

The Turkish government said the attempt was plotted to kill President Erdoğan and plummet Turkey into a Syria-like civil war.

But recent opinion polls show Erdoğan gained more popularity and momentum, as over 85 percent of the Turkish citizens supports his leadership during and after the coup night.

In recent months, Ankara has made significant changes in its foreign policy and attempted to restore ties with neighbors that feared the West, which repeatedly criticized Erdoğan despite his unprecedented popularity.

The Erdoğan-Putin meeting in Russia is expected to produce some significant deals on economy, trade, business, defense and regional events, especially on the Syrian conflict.

British Financial Times (FT) newspaper expressed the fear with a story titled "West uneasy as Moscow and Ankara edge closer".

"The summit has taken on broader geopolitical significance," FT writes.

It cited Alexei Malashenko, an analyst at the Moscow Carnegie Center saying that the West's criticism on Turkish leader rather supporting after the failed coup "is extremely beneficial to Russia".

"Ankara also welcomed the fact that Moscow gave its unequivocal backing to Turkey following the failed coup," the paper said in its online version.

It also touched upon Turkey-US relations that "are the worst in 50 years" over the extradition of US-based so-called cleric Fetullah Gülen, mastermind of the failed coup.

Washington repeatedly denied Ankara's request to extradite the Turkish leader of the Fetullah Terrorist Organization, which has been shouted by Turkish courts.

Not only is the U.S. stance over the FETÖ leader's extradition and failed coup attempt creating an uncomfortable atmosphere in Ankara, but Washington's support to the Kurdish group in Syria, which Turkey considers as a terror group and a threat to its national security, also became an issue of recent tension between the largest NATO members.

The FT said, "It will take time to restore trust," citing an earlier statement of Putin's spokesman, Dimitry Peskov.

It concluded the story with one European diplomat's remarks who expressed, "Erdogan can lash out all he likes, but he needs us. He knows he cannot trust Putin. How many Turkish-Russian wars have there been over the last three hundred years? How many did the Turks win?"

Reuters news agency said Washington is likely to be watching the meeting closely, adding that closer ties between Ankara and Moscow could be more troublesome for NATO.

It said that recent remakes from the E.U. states, including Germany and Austria nudged Turkey to get closer to Russia.

The Wall Street Journal writes, "Erdoğan's visit to Moscow 'amid tension with the U.S. and the EU' brings together two leaders whose ties with the West are frayed."

"The trip also allows Ankara to send a message to the U.S. and European Union about what it views as the West's lack of empathy over the coup attempt," it said citing a Turkish foreign policy expert.

Meanwhile, a Hungarian lawmaker also voiced that the West was uneasy with a strong Turkey and its popular leader Erdoğan.

"The West is uncomfortable with the idea that Turkey will remain strong, as long as Erdoğan is its leader," said Hungary's far-right party leader Gabor Vona.

"That incident [the repelled coup] showed that Turkey has a strong nation in addition to its strong economy," he added.