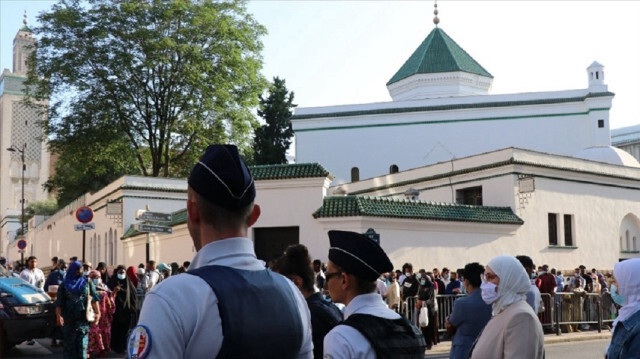 If you are a French Muslim applying for a job, you are five times more likely to face discrimination than a non-Muslim.
And if you are a Muslim woman donning a headscarf, you have a 1% chance of finding employment.
Rights activist Yasser Louati cited those examples when he spoke to Anadolu about how life is for Muslims in France.
"If you apply for housing, it takes you twice as long to get housing because you are identified either as an African, North African or a Muslim," he said.
"If you are a Muslim youngster in France, police brutality targets you first."
European Islamophobia Report 2022 co-editor Enes Bayrakli named France as one of the most Islamophobic countries last year.
Activists and experts, in conversation with Anadolu, endorsed the ranking.
"The cost is that you have to struggle every single day and, even if you have rights on paper, they are never granted to you," said Louati, a Paris-based political analyst.
-What did re-election of Emmanuel Macron mean for Muslims
The re-election of French President Emmanuel Macron in 2022, "spells no good news for Muslims and the French population as a whole," said Louati.
He said the president failed to tackle poverty, corruption, discrimination and instead of focusing on socioeconomic policies, he based last year's presidential campaign on identity politics.
"He set the stage for his second mandate to be basically about disciplining Muslims with the appropriate and the extreme tools," Louati told Anadolu in a zoom interview.
For the activist, this means the French president can shut down any organization without going to court and researchers can be criminalized if they call out Islamophobia.
Abdennour Toumi, an expert from ORSAM, or the Center for Middle-Eastern Studies, believes Macron's tenures have severed ties between the state and Muslims.
"Unfortunately, politically speaking, especially under the Macron administration -- he has damaged a great deal, the relation between Muslims and France in general."
French Muslims continue to be haunted by the aftermath of the state of emergency which was declared by the government after terror attacks in November 2015 that killed 130 people.
"The fear and the trauma actually that we experienced in 2015 is still part of our psychology," said Rayan Freschi, a French jurist and researcher at the British advocacy group, CAGE.
Freschi, who embraced Islam that year, said it was a very challenging time for Muslims and explained that changes were made to legislation, policies and courts in the way they were dealing with Muslims and it became harsher.
Louati said more than 4,000 raids were carried out with the overwhelming majority against Muslim families. And that the government "brutally assaulted" thousands of families and hundreds of businesses and charities and halal restaurants were raided to make them "pay for the attacks."
Lambasting the government, he said: "During those terrorist attacks, many Muslims died, which means that even in times of national tragedy, when terrorists make no mistake between Muslims and non-Muslims, the government and the media will make a difference."
Experts have said the anti-separatism law introduced by the government in 2021 "systemically obstructs" religious freedom and Islamic practices.
While Louati said the criminalization of Muslims is still in effect as the anti- separatism law is still in place.
"For certain, this, the anti-separatism law deepened an already existing sense of fear, terror in the community," according to Freschi.
The law led to the closure of mosques or Islamic schools, harassment of imams, and the closure of businesses that are run by Muslims. Thousands of Muslim establishments were investigated by the state with 900 forcefully closed by the state and more than €55 million seized, he said.
As reports of Muslim professionals leaving France make headlines, Freschi said it is already a social phenomenon. Islamophobia is so intense in force because it is basically obstructing the very ability to live as free citizens.
"It's so intense that you have to leave at some point, you either have to leave or push back very strongly," he said.
Toumi said in the last five years, there is a good segment of young graduated Muslims who have immigrated to the US and Canada -- recently to Turkey, Malaysia, Indonesia, United Arab Emirates and Qatar for a better life and to be "in peace."
Activists have no hope that the government will curb Islamophobia and expect strict laws and policies for Muslims in the future.
But their hope lies within the younger generation, who hopes to emerge as Muslim leaders and activists.
Freschi feels that the Muslim youth grew up during the war on terror era, followed by wars in Afghanistan and Iraq, even though in Europe, they were closely exposed to the narratives.
"They perfectly understand that Islamophobia, first of all, exists. Secondly, it's state-led. And thirdly, that it needs to be opposed systematically and it requires the establishment of a properly independent Muslim community, a strong Muslim community," he said.
2 months ago