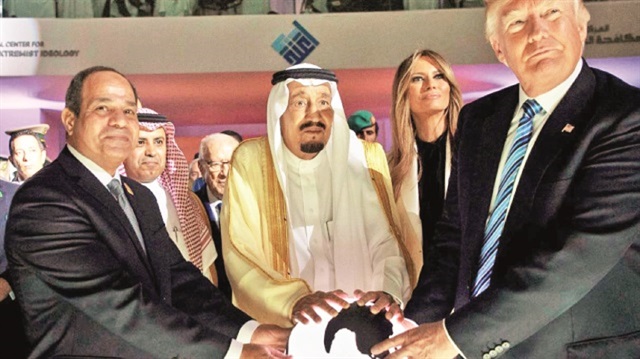 Since U.S. President Donald Trump's visit to Saudi Arabia on May 20, 2017, tensions have run high in the Middle East and critical developments have taken place.
May 20 - Trump's visit do Riyadh
During his visit to the country, U.S. President Donald Trump signed a $110 billion arms deal with Saudi Arabia. Joining Saudi King Salman's traditional sword dance, Trump also touched a glowing orb with Egypt's putschist General Abdel Fattah al-Sisi and King Salman.
June 5 – Qatar crisis
Following the cyber-attack row between Qatar and the Arab states on May 23, Saudi Arabia, Egypt, Bahrain and the United Arab Emirates (UAE) and Yemen announced that they had cut diplomatic ties with Qatar on June 5, accusing Qatar of "supporting terrorism," charges which Doha denies.
June 21 – New crown prince
King Salman ended a tradition in his country and named his 31-year-old son Mohammed bin Salman next in line instead of the Crown Prince Mohammed bin Nayef. This change was interpreted as a "soft coup."
July 30 – Al-Sadr in Saudi Arabia
Iraq's influential Shia leader Muqtada al-Sadr visited Saudi Arabia upon an official invitation for the first time in 11 years.
Sept. 25 – Illegitimate referendum in the KRG
Iraq's Kurdistan Regional Government (KRG) held an illegitimate "independence referendum" although many countries opposed the vote, including Turkey.
Oct. 12 – Hamas and Fatah reconciliation
The Hamas and Fatah movements signed a "reconciliation deal" within the ongoing negotiations in Egypt, ending a conflict in Palestine.
Oct. 13 – Nuclear deal in Congress
Recently putting more pressure on Iran, U.S. President Trump withdrew his support from the nuclear deal signed in 2015, and put the fate of the deal in the Congress' hands.
Oct. 24 – Saudi Arabia returns to 'moderate Islam'
Saudi Crown Prince Mohammed bin Salman stated that his country will return to "moderate Islam" and that they will end "extremism" soon.
Nov. 2 – Iran and al-Qaeda link in Bin Laden documents
Iran's links to al-Qaeda have been revealed after U.S. Central Intelligence Agency (CIA) released around 470,000 documents seized in a raid of al-Qaeda leader Osama Bin Laden's house.