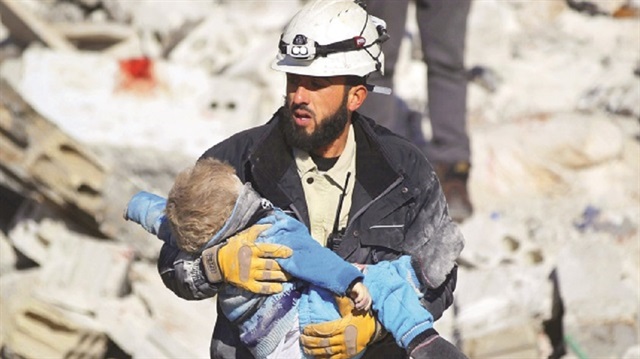 The Syrian Civil Defense, also known as the White Helmets, remains committed to providing humanitarian relief in Syria since the country has been locked in a vicious civil war from the beginning of 2011 when the Assad regime cracked down on pro-democracy protests with unexpected ferocity.
Speaking to Yeni Şafak daily, head of the Syrian White Helmets Raed Saleh underlined that they are not a part of the fight between U.S. and Russia, and that their only goal is to save innocent lives.
"We have a single aim: to help as many innocent people as possible after the bombardments that target civilians. In addition, we support the reconstruction process of parks, roads, bridges, water-treatment plants and orphanages," he said.
"We have saved 115,000 lives in Syria in seven years," Saleh added.
Regime forces set ground for a major massacre in Idlib
"The forces that shelled mosques, schools, bazaars, hospitals and thousands of civilian houses since 2011 are in preparation for the last and biggest bloodbath in Idlib. We were the ones who reported all the violations of the Assad regime and its allies, notably chemical weapons, to independent international organizations. Attacks against us stem from the fact that we have provided evidence of their massacres," Saleh said.
Idlib, located in northwestern Syria on the Turkish border, has faced intense attacks by the Bashar al-Assad regime after a vicious civil war broke out in 2011. Since March 2015, Idlib is no longer under the control of the Assad regime and has been overrun by opposition groups.
The Assad regime is currently preparing for an offensive against the last opposition-held stronghold of Syria's Idlib.
Over 250 aid volunteers martyred in Syria
"65,000 people are currently ready for duty as an emergency volunteers at the areas we remain in. Two hundred and twenty-seven of them are women. We have lost 225 martyrs in this war and 700 of our volunteers were wounded. Organizations such as Doctors Without Borders, the Turkish Disaster and Emergency Management Authority (AFAD) supported us the most. The biggest support we received was, without a doubt, from Syrian civilians."
Regime forces target our headquarters
"Assad forces are in preparations to attack our headquarters in Idlib, Lattakia, Homs and Aleppo. They want to repeat the massacres in Khan Sheikhoun and Eastern Ghouta. Turkey is the most powerful country in the Syrian issue, and in the upcoming process, the prominent role of Turkey will be grasped better. We follow the efforts of Turkish President Recep Tayyip Erdoğan and the Turkish government that are conducted in the region to prevent fresh massacres.
At least 100 people were killed and hundreds of others injured in the chemical attack in April 2017 in Khan Sheikhoun in western Idlib province.
The United Nations called on Russia, Iran and Turkey to forestall a battle in Idlib which would affect millions of civilians and could see the government potentially using chlorine as a chemical weapon.
#
The Syrian Civil Defense
5 years ago