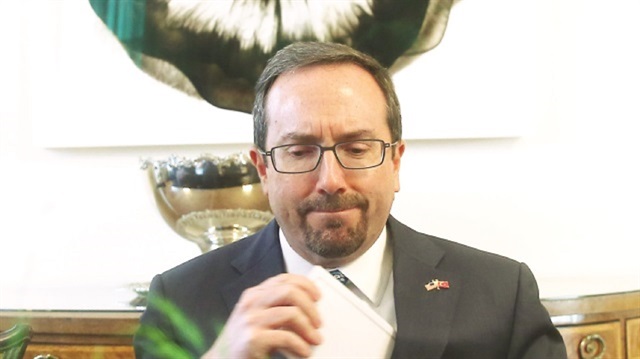 The outgoing U.S. Ambassador to Turkey John Bass in a farewell press conference claimed that the U.S. cooperation has helped reduce Daesh terrorist attacks in Turkey for nine-and-a-half months, revealing the U.S.-Daesh partnership. Bass has recently been regarded as the main actor in the tension between Turkey and the United States, and draws attention with his scandalous attitude and statements.
John Bass, a couple of days before leaving his diplomatic mission in Turkey, confirmed U.S. President Donald Trump's statement that former President Barack Obama "is the founder of [Daesh]" and "the co-founder would be crooked Hillary Clinton."
Ambassador Bass said "I think it is really important to remember that, this country has not experienced any significant attacks by Daesh in nine-and-a-half months.
"That's not a result, the absence of attacks is not a result of Daesh deciding it no longer wanted to try to conduct attacks in Turkey. It's a result of Daesh no longer being able to conduct the kinds of attacks in Turkey they did in 2015 and 2016.
"And all of you remember quite well the terrible tragedy two years ago that we marked yesterday with the terrible bombings at the Ankara train station.
"The fact that Daesh is no longer able to conduct attacks of that magnitude successfully in Turkey is the result of a lot of close, intensive cooperation between our two governments."
'US to continue to support Turkey'
Bass said that Turks, Europeans and Americans are safer and more secure as a result of the joint efforts Turkish intelligence authorities and U.S. authorities.
"Now that doesn't mean that Turkey is not continuing to face acute security challenges as a result of the conflicts in Syria and Iraq. The United States government is mindful of those challenges. We're very sensitive to them. And we are committed, as we have been, to supporting the Turkish government's efforts to deal with the sources of that violence and instability."
Euphrates Shield prevents Daesh attacks
Donald Trump took over Barack Obama's office on Jan. 20. Daesh organized the Reina night club attack in Istanbul on Oct. 1. This was the last attack Daesh staged in Turkey. Since then, the terrorist organization has not been able to conduct any attacks in Turkey, and terrorists who were discovered to have been preparing for attacks were arrested.
Turkey inflicted a heavy blow on Daesh with the Euphrates Shield Operation, which was launched on Aug. 24, 2016, destroying the terrorist threat. The Euphrates Shield Operation is deemed as the most deterrent factor preventing Daesh from conducting an attack in Turkey for the past nine months.