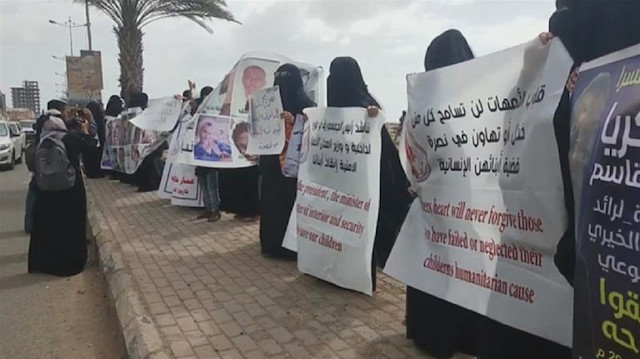 Scores of Yemeni mothers demonstrated outside the home of the country's interior minister, demanding to learn the fate of their sons who are reportedly held at a prison run by the United Arab Emirates (UAE).
The protest was staged by the Association of Mothers of Abductees, a group run by Yemeni women advocating for arrested or missing civilian relatives, according to a report by Aljazeera.
The women demanded to know the fate of their children, some of whom have been missing for more than two years.
A number of detainees in Aden, whom the government previously ordered to be freed, are still in the UAE-run prison.
Some 86 detainees had staged a month-long hunger strike at the Bir Ahmed prison over their detention, according to the same statement.
"We call on the government, the minister of the interior and the Attorney-General to reveal the fate of the dozens of missing prisoners and to uncover their secret places of detention," the statement read.
Routine torture and sexual abuse are two of the horrific widespread practices being conducted in detention centers run by the UAE in Yemen.
Smuggled drawings made by prisoners last year offered a rare glimpse into a world of human rights violations in the UAE-run Bir Ahmed prison where Yemeni detainees held without charge are tortured and sexually abused on a daily basis.
The UAE, a top U.S. ally in the Middle East, runs several secret prisons in the impoverished Arab Peninsula country.
Emiratis have arrested hundreds of Yemeni men on suspicion of being al-Qaeda or Daesh terrorists. The prisoners are being held without charges or trials in at least 18 hidden prisons.
Last year, American officials confirmed that the U.S. has interrogated detainees at UAE's secret prisons. However, the Pentagon insisted that it was not aware of human rights abuses in these facilities.