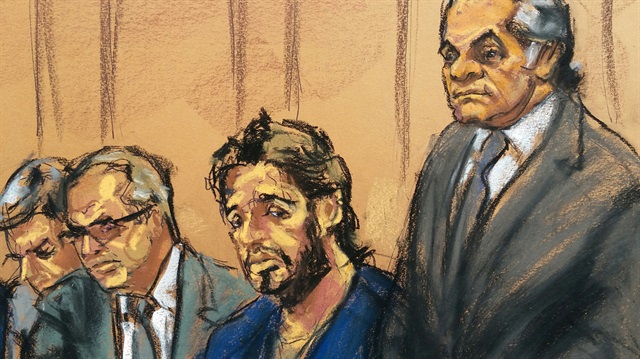 The number of suspects arrested by Turkish authorities over the investigation of Turkish-Iranian businessman Reza Zarrab has risen to 17. Zarrab is a witness in an ongoing trial in the U.S. against Mehmet Hakan Atilla, a former deputy general manager of Halkbank who has been charged with allegedly evading U.S. sanctions on Iran. Reza Zarrab was arrested in the U.S. last year on fraud and Iran sanctions-related charges. The investigation into Zarrab launched by Istanbul's top prosecutor is currently underway.
Zarrab probe underway
Three of the suspects had been arrested previously, and the remainder were arrested on Tuesday. Three suspects identified as Sinem A., Regaip A., and Mustafa H. were working with Zarrab and allegedly sent documents to the U.S. concerning the legal proceedings concerning him there.
A source who alleged that they knew Regaip A. said that Regaip A., Sinem A. and Mustafa H. were Fetullah Terrorist Organization (FETÖ) members. The suspects who were taken into custody were a part of the staff who controlled the financial affairs of Zarrab.
Documents to be sent to the U.S.
In the raids of the addresses where three of the suspects were located, the digital data of Zarrab's company information was discovered. The digital materials were examined and in evidence found on one of the suspect's phones, it was found that Zarrab was looking into settling in Dubai.
Documents to be burnt
Police were notified of a company with links to Zarrab that wanted to burn certain documents. Following an investigation, some documents were seized. The Istanbul Chief Public Prosecutor's Office revealed that an investigation into Reza Zarrab and his relatives was launched last week.
Presented in court
Hakan Atilla's lawyers presented to the court a letter regarding Zarrab's prison phone call records in prison. A letter delivered by defense lawyers described a telephone conversation between Zarrab and a person named Ahad on Sept. 15, 2016. In the conversation, Zarrab said he needed to lie "in order to get out or to get a reduced sentence." The conversation took place six months after he was arrested in the U.S. and over a year before he pleaded guilty. Pete Brush, a courthouse reporter, detailed the evidence.
In a secret court hearing on Oct. 26, Zarrab pleaded guilty and became a cooperating witness. When asked last week on why he decided to give evidence, Zarrab said "Cooperation was the fastest way to accept responsibility and to get out of jail at once."
The document continues "you need to admit to crimes you haven't committed." Shortly thereafter, Zarrab says "In America in order to make it out of prison you need to admit to something you haven't committed."
Reza Zarrab supposedly said in a 9/2016 jailhouse call that he needed to lie "in order to get out or to get a reduced sentence," according to the defense's letter. Mehmet Hakan Atilla's team says that shows Zarrab's "willingness to fabricate testimony out of whole cloth." [2/3]

— Pete Brush (@PeteBrush) December 4, 2017
Open access
In the letter, it said Zarrab was "willing to give a false testimony for a reduced sentence." The two-page letter was filed publicly by mistake, and was therefore removed from the public docket. Judge Berman kept the guilty plea secret for weeks but ordered the letters to be put back on the public docket yesterday.
Hakan Atilla's defense lawyers said the document was proof of Zarrab "proclaiming his willingness to fabricate testimony out of whole cloth in order to obtain a reduced sentence."
When asked whether he said what was noted in the letter, Zarrab said: "Yes, I said lying was the fastest way to get out of U.S. prison."
When asked whether Zarrab rehearsed schematics with the FBI before appearing before the jury, Zarrab said: "Yes, I drew some schematics for the prosecutor's office, just as I drew some schematics here."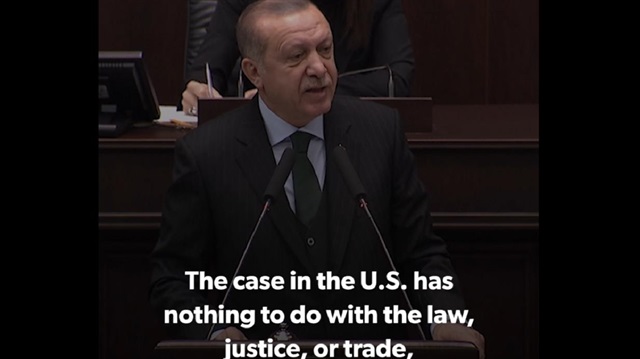 The Turkish government believes FETÖ is linked to the court case. The judge presiding over the case has proven links to FETÖ, and the alleged proof comprises of illegally obtained and fabricated evidence, including wiretap records by FETÖ-affiliated police officers.
"They are trying to judge our country in fake courts. Courts established by FETÖ representatives will never be able to judge my country," said Turkish President Erdoğan in a speech on Saturday.
FETÖ terrorists are led by U.S.-based Fetullah Gülen, who orchestrated Turkey's July 15 coup attempt and is the mastermind behind a long-running campaign to overthrow the state through the infiltration of Turkish institutions, particularly the military, police and judiciary.