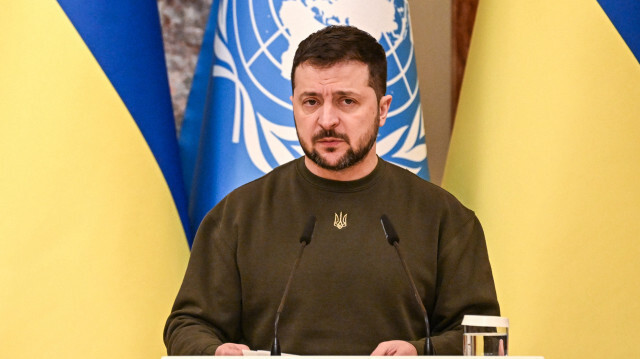 Ukrainian President Volodymyr Zelenskyy
Ukraine's President Volodymyr Zelenskyy on Monday visited the front-line positions of the Ukrainian military in the country's southeastern Zaporizhzhia region.
"Zaporizhzhia region. Frontline positions. I am honored to be here today, next to our military. I am thankful to each of our warriors for defending Ukraine, our sovereignty, our cities, and our children. We will definitely win," Zelenskyy said in a message on Telegram.
He also shared a video of his address to the troops.
Zelenskyy later said that he also visited the command post, where he presented orders and medals to security personnel and members of the State Emergency Service.
"Thank you for protecting our state, our homes, territorial integrity and life in Ukraine. I wish you good health. I wish you a great victory and it will definitely come true," Zelenskyy also said.
Zelenskyy later held a meeting with the military command in the region, during which he was informed about the operational situation in Zaporizhzhia, the readiness of military units to perform assigned tasks, the socio-economic situation in the region, and the needs of internally displaced persons.
Separately, Rafael Grossi, the director general of the International Atomic Energy Agency (IAEA), said in a message on Twitter that he and Zelenskyy visited the Dnieper Hydroelectric Station.
"The Dnieper hydroelectric station is an essential part of the system that sustains the nuclear safety of the Zaporizhzhia nuclear power plant. (Zelenskyy) showed me the recent damage suffered by the dam," Grossi said.
Zelenskyy's visit comes after similar surprise visits to Ukrainian positions in the Donetsk and Kherson regions on March 22 and 23, respectively.
2 ay önce