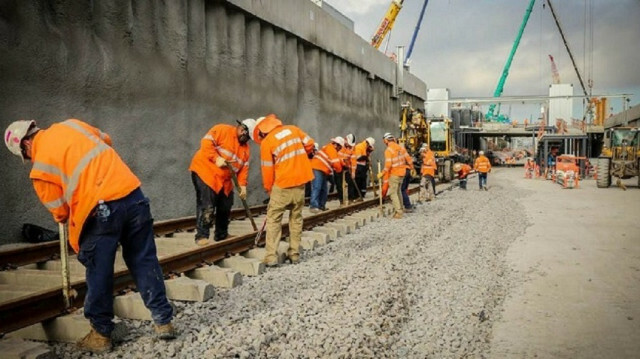 The National Railway of Zimbabwe (NRZ) workers are living in fear of victimization and losing jobs as the new management inaugurated in December is ruling with an iron fist.
Speaking to Anadolu Agency ahead of World Railway Workers Day on March 27, workers revealed that intimidation has grown in the company.
"We are living in fear of victimization. As we speak, 20 workers were last week placed on retrenchment after a WhatsApp group storm in which workers were discussing corruption by the new general manager.
"We feel used by the company after soldiering on for more than 10 years of non-salary payment and now they are victimizing us for stating the truth," a member of the Zimbabwe Amalgamated Railway Workers' Union said on condition of anonymity.
"The president of our union was targeted while the president and the secretary-general of the Railways Artisan Union (RAU) were also affected. In the Railways Association of Engineers, they also targeted the general secretary and this has sent a wave of fear among workers who are aggrieved," he added.
WhatsApp messages that brewed the storm were shown to Anadolu Agency and they alleged corruption against Respina Zinyanduko, a lawyer who was appointed the NRZ general manager on Dec. 1.
Zinyanduko referred all questions by Anadolu Agency to Acting Public Relations Manager Martin Banda, who denied the allegations.
"The NRZ does not have the power and resources to monitor WhatsApp groups. Indeed, we have so many groups and institutions which are independent of the organization where reports can be channeled to, if there is any form of corruption detected within the NRZ," Banda said in response, while urging workers to seek help from anti-corruption organizations.
"We have ZACC (Zimbabwe Anti-Corruption Commission), and various anti-corruption institutions and whistle-blower channels to take care of any corruption and looting if it is within the NRZ."
- Nonpayment of wages for a decade
The NRZ has not paid its 4,600 workers since 2012 because of economic challenges and alleged corruption.
While some workers allege the abandonment of the local currency as the source of the challenges, the NRZ said a poor working culture contributed to the demise.
"Workers are living like destitute from paltry salaries paid in local currency. The company owed us a lot of money accrued during the US dollar era but today they decided to pay us using the local currency at 1:1 against the green back," according to an employee who called himself Robert.
He said workers were owed amounts ranging from $15,000 to $100,000 depending on job title and grade but when payment was done, the new management settled in local currency in an "ex gratia" format.
"Those who shot down the proposal of having the arrears multiplied by three were paid at the rate 1:1 with the US dollar," added Robert.
Some resigned due to non-payment, while those who remained were short-changed.
"I should say the railway company has, according to them, settled the arrear salaries but that again has been a major source of domestic fights between several couples.
"The move left too many challenges in our homes than solutions. We still owe school fees from two to three years ago and now women and children are the ones bearing the brunt," according to another employee from Harare.
However, the NRZ management believe workers have been stealing from workplaces.
"Currently, the NRZ has managed to clear all the arrear salaries with an ex-gratia component using internally generated funds," said Banda. "There is, therefore, a need to address the issue of the culture of self-remuneration through illegal and unscrupulous means and deter offenders that crime does not pay."
This resulted in the NRZ paying $326 million in settlement of salary arrears.
- NRZ pledges to rebuild entity
Meanwhile, the NRZ said it is implementing a 10-year strategic plan in three phases – stabilization, growth and expansion – to stabilize the ship and prevent further sinking and dwindling operations.
"This process saw the elimination of redundancy by redeploying staff to needy areas. The process also resulted in training and retraining of staff," said Banda.
To a certain degree, the company has lost a number of infrastructures mainly due to vandalism, theft and illegal mining on railway property.
In a bid to save property as well as raise morale among workers, a whistle-blowing facility has been introduced.
"We created a whistle-blowing award that allows the community to alert us on any acts of vandalism or a broken rail at any section. It awards those people that enable us to save at least 5% of the value of the stolen items," said Banda. "However, workers are complaining that whistle-blowing has resulted in workers reporting each other to management for discussing looting and nepotism among top officials, hence increased cases of victimization."
2 yıl önce