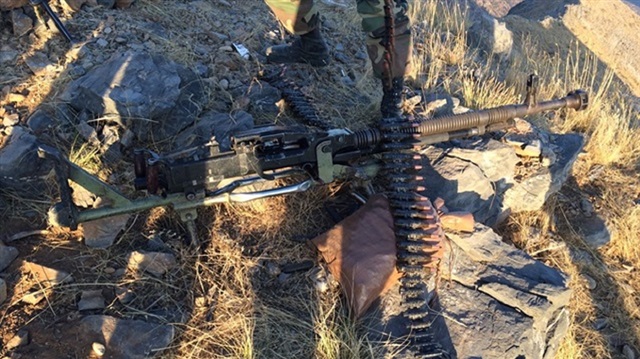 As many as 13 Kurdistan Workers' Party (PKK) terrorists were killed in the operation in Çukurca and Şemdinli towns in the southeastern Turkish province of Hakkari, Turkish military has stated.
Six of the total 13 terrorists were killed in Şemdinli town, while the remaining are killed in Çukurca town.
In Şemdinli, the terrorists were about to conduct an attack with reconnaissance and surveillance tools.
Three caves in the operation, a shelter, and a PKK position were destroyed.
A wide range of weapons and ammunition were discovered.
Two docks, three Bixis, five AK-47s, two RPG-7s, three Dragunov, 111 hand grenades, a shotgun, one pistol, one dock barrel, 15 RPG-7 anti-tank ammunition, 14 dispatch flares, 31 AK-47 magazines, 1,400 12.7 mm ammunition, one thermal weapon sighter, two major radios, one small radio, an LCD television, three hammer tools , two 1.500W UPS, one battery, various seized food materials, two bunkers and hand-made explosives were destroyed during the operation.
Turkey has been intensively fighting against PKK terrorists both through land and air operations in southeastern Turkey and Northern Iraq since July 2015.
Since that date, more than 7,000 PKK terrorists were killed.
The PKK is considered a terrorist organization by Turkey, the U.S and the EU.