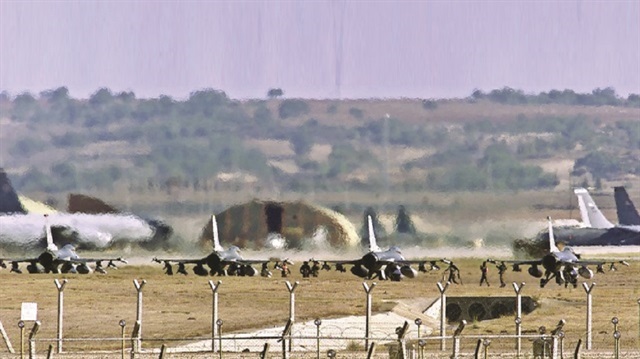 Calls to expel American troops stationed at Turkey's southern Incirlik Air Base have gained momentum on Monday, after the U.S. announced it has indefinitely suspended granting non-immigrant visas to Turkish citizens, following the arrest of a local worker at its consulate in Istanbul over terrorism charges.
Public opinion in Turkey was outraged by the latest American move, which has been viewed as the latest in a series of provocations after the U.S. continued to provide arms to the Kurdistan Workers' Party (PKK)'s Syrian affiliate, the Democratic Union Party (PYD), and issued arrest warrants for members of President Recep Tayyip Erdoğan's security detail, while continuing to dodge requests to extradite Fetüllah Gülen, the ringleader of the FETÖ terror organization.
Turkish people disturbed
The Turkish Embassy in the U.S. on Sunday announced that processing non-immigrant visa applications have been suspended in retaliation to the American move.
A large number of users on Turkish social media websites said the move was "insufficient," calling for further steps, including expelling American troops from Turkey's Incirlik Air Base, which will make it difficult for the U.S. to summon troops to the region.
In an online survey conducted by Yeni Şafak last January, where close to 50,000 users participated, an overwhelming majority of 97 percent called for the Incirlik Air Base to be shut down.
Earlier, Turkish national Metin Topuz, confirmed by the U.S.' Istanbul Consulate as a local employee, was remanded in custody over terror charges by an Istanbul court on Wednesday.
Topuz is linked to the Fetullah Terrorist Organization (FETÖ), the group behind last year's failed coup in Turkey, a judicial source said on Wednesday.
FETÖ and its U.S.-based leader Fetullah Gülen orchestrated the attempted coup, which left 250 people martyred and nearly 2,200 injured.
Topuz has been linked to a number of FETÖ suspects, including police commissioners and former prosecutor Zekeriya Öz, a fugitive accused of attempting to overthrow the government through the use of force, added the source, who asked not to be named due to restrictions on speaking to the media.