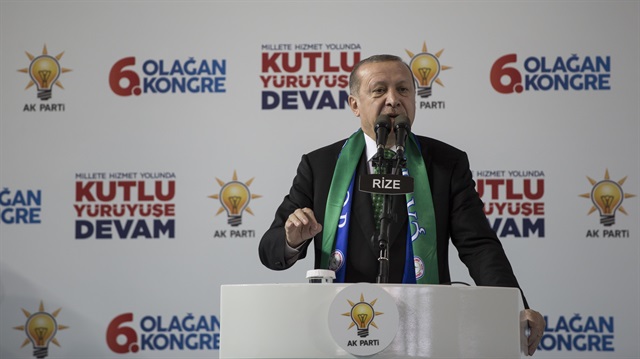 President Recep Tayyip Erdoğan said Saturday an apology was not enough to solve the NATO enemy chart problem, and added that NATO's credibility was now dubious.
"Yesterday, you have witnessed the impudence at NATO exercise in Norway. The credibility of NATO has become questionable in the eyes of all member states. Some mistakes are not made by fools but by scum. The disrespectful behavior at the NATO drill cannot be solved with a simple apology," Erdoğan said.
"I understand this impudence that targets me and founder of our republic Ghazi Mustafa Kemal Atatürk as a reflection of a distorted point of view that we observe in NATO for a while," the president added.
Turkish officials have slammed the incident during a NATO drill in Norway. Turkey withdrew from the Trident Javelin exercise after a civilian Norwegian official depicted Erdoğan as an "enemy collaborator" during a bloc exercise.
On Friday, Erdoğan told ruling Justice and Development (AK Party) Party members in capital Ankara that a portrait of Turkey's founder Mustafa Kemal Atatürk was also shown in the 'hostile leader list' during the computer-assisted exercise.
A Norwegian national was removed from the exercise as a consequence of the incident, and NATO Secretary General Jens Stoltenberg and Norwegian Defense Minister Frank Bakke-Jensen have apologized to Turkey.
S-400 purchase
"The reaction put forward when we attempted to purchase the S-400 from Russia to defend our own security confirms this fallacy. I would like to call out to all our NATO allies. We bought the S-400 system. We are currently discussing financing. We will not allow anyone to threaten us with their technology," Erdoğan said.
Turkey has "completed" the purchase of the S-400 air-defense system from Russia, Turkish Defense Minister Nurettin Canikli said on Nov. 11.
The S-400 is Russia's most advanced long-range anti-aircraft missile system and can carry three types of missiles capable of destroying targets, including ballistic and cruise missiles.
"Those who are trying to limit Turkey in the international arena by supporting terrorist organizations against us in Syria and Iraq. How can we believe those who say that they are fighting terrorism?" Erdoğan said.
Turkey will save Syria's Idlib and Manbij
"We will save Syria's Idlib. We will also clear Manbij and deliver it to its rightful owners. We will save Afrin. We will eliminate all terror threats to Turkey in Iraq's Qandil. We will work to prevent a quarrel among brothers in the Gulf," said Erdoğan.
Erdogan has previously said that Afrin would be on Ankara's agenda after its current operation in Syria's Idlib province, where Turkey and Russia have set up observation points under a "de-escalation" deal reached by Ankara, Moscow and Tehran to ease the bloodshed in the six-year-old Syrian conflict.
Turkish troops will be deployed to strategic points in Idlib, near its border with Afrin and Manbij, to monitor the region to prevent clashes between Syrian opposition fighters and Assad regime forces as well as outline a plan for an upcoming operation in the other two areas. The Turkish military has already established six observation posts across Idlib.