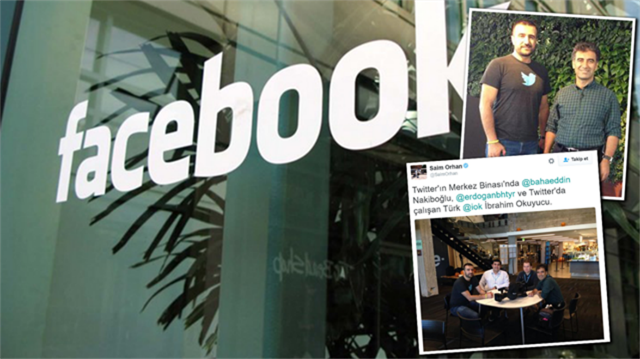 Following the shutdown of Yeni Şafak's Facebook accounts, among the most popular news pages in Turkey, Gülenist Terror Organization's (FETÖ) key man in the Facebook administration becomes a person of interest.
Ibrahim Okuyucu, one of the most loyal elements of the organization, is believed to be the man behind the closure of the newspaper's Facebook accounts.
Yeni Şafak's Turkish, Arabic and Sports pages on the world's largest social network were suddenly closed by Facebook authorities without providing any notice or reason.
The shutting down of Turkey's first verified global status media page, with the highest number of followers, is literally censorship.
Newspaper sources said closing its Facebook acounts, which had more than 10 million followers combined, is more than a censorship incident.
The newspaper and its social media accounts have repeatedly been targeted by terror groups like the PKK and FETÖ.
FETÖ-affiliated individuals on another social media platform, Twitter, were responsible for the shutting down of many pro-government accounts following a FETÖ-led coup attempt in December 2013.
İbrahim Okuyucu, one of FETÖ's key figures, who was working as an "Engineering Manager" leading an 11-member engineering unit at Twitter's headquarters at that time, transferred to Facebook in January 2016.
Okuyucu, a computer engineer, graduated from Bilkent University in Ankara in 1998 and migrated to the U.S. in 2000.
During the Dec. 17 and Dec. 25 coup attempts, Okuyucu was a key person in FETÖ, providing security and technical support to pro-FETÖ accounts, including @Fuatavni, which leaked a great deal of confidential information.
While the government was struggling with the group's illegal wiretapping, tracking and blackmailing of thousands of prominent figures across the country, Okucuyu actively provided information to pro-FETÖ trolls and militants.
He also has strong relations with Sevgi Akarçeşme, another important figure involved in FETÖ's international affairs. Akarçeşme met with Okuyucu at Twitter headquarters and guaranteed the security of pro-FETÖ Twitter users' identity.
"Cutting access to Yeni Şafak's pages, which have grown in the last four years within the scope of Facebook's publishing policies and as a result of our professional management to become an independent media power, is a great blow to the freedom of expression of the Turkish press, and its addressee is not only the Yeni Şafak brand, but the Turkish media and community," the media office said.
Facebook's censorship of Yeni Safak raises a few questions when approached in view of the latest terror incidents in Turkey.
The FETÖ militants are also believed to be working against Facebook in cooperation with PKK members.
Following the closing down of accounts, PKK-affiliated social media accounts published posts along the lines of, "We were the ones that had Yeni Şafak's accounts closed," declaring that they had a hand in the censorship applied by Facebook.
In recent weeks, Yeni Şafak headquarters was targeted by PKK-affiliated terrorists who threw Molotov cocktails at the building and opened fire.
7 yıl önce