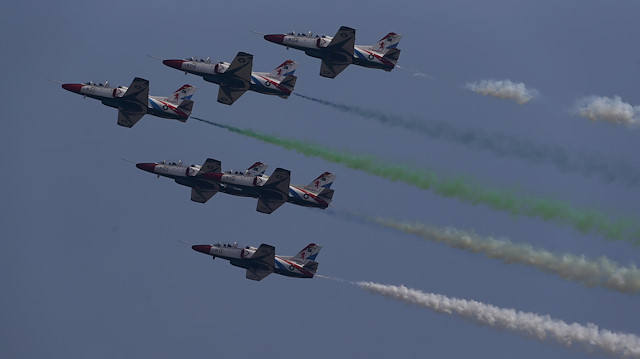 Amid rising tensions between India and Pakistan, the military imbalance between the two nuclear-armed neighbors is making many take note.
According to the latest figures from the International Institute for Strategic Studies (IISS) and the US-based Arms Control Association, there are some significant differences between the two countries.
Pakistan spent more than $11 billion (3.6 percent of its GDP) while India allocated almost $58 billion (2.1 percent of its GDP) on defense, according to the IISS.
Pakistan, home to over 200 million people, has about 653,800 troops. India, with a population of over 1.3 billion people, has an army of more than 1.4 million soldiers.
Pakistani soldiers are supported by 2,496 tanks, 1,605 armored personnel carriers, and 4,472 artillery guns.
India, on the other hand, has more than 3,565 tanks, 336 armored personnel carriers and 9,719 pieces of artillery, IISS figures show.
In the skies, India has 814 combat capable aircraft, while Pakistan has 425.
"A problem for the (Indian) air force is that the strength of its tactical combat-aircraft squadrons remains well below target, at a time when both external acquisition projects and national development programs are faltering," said IISS in the recent report.
In air defense, India will receive the first of five-regiment order for the Russian S-400 by the end of 2020, according to IISS.
India's navy has one aircraft carrier, 16 submarines, 13 frigates, 14 destroyers, 106 patrol and coastal combatant vessels, and 75 combat-capable aircraft with 67,700 personnel.
Pakistan, on the other hand, has a smaller navy comprising 23,800 personnel, 8 submarines, 9 frigates, 17 patrol, and coastal vessels and 8 combat-capable aircraft, IISS said in its 2019 assessment.
According to SIRPI, India has 130 to 140 nuclear warheads while Pakistan owns 140 to 150.
INDIA PAKISTAN
Population 1,296,834,042 207,862,518
TOTAL MILITARY PERSONNEL 1,444,000 654,000
Army personnel 1,237,000 560,000
Navy personnel 67,700
23,800
Air personnel 127,200 70,000
Tanks 3,565 2,496
Armored personnel carriers 336 1,605
Artillery guns 9,719 4,472
Combat-capable aircraft 814 (MiG-21=>113, MiG-29=>66, Sukhoi Su-30=>242, SEPECAT Jaguar=>91) 425 (F16=>45, Mirage 5=>90, Chengdu J-7=>139, JF-17 Thunder=>100)
Aircraft carriers 1 0
Submarines 16 8
Frigates 13 9
Nuclear warheads 135 145
TOTAL DEFENSE BUDGET $57.9 billion $11.2 billion