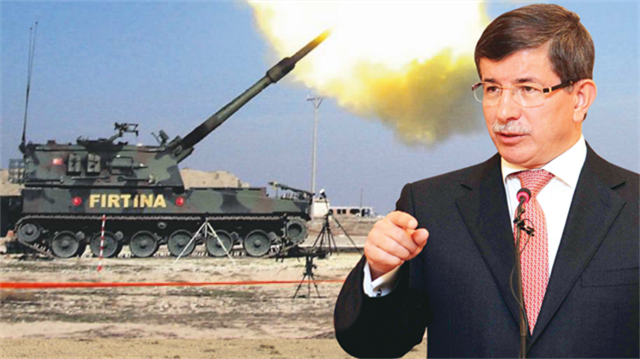 Prime Minister Ahmet Davutoğlu said that Turkish military operations have forced the Democratic People's Unit (PYD) terrorists back from Azaz town of northern Syria.
While speaking to journalists en route to Ukraine, Davutoğlu said that Turkey will do everything to protect the city from PYD militants.
"Turkey will not allow Azaz to fall," Davutoğlu vowed.
"PYD must not move to the west of the Euphrates and the east of Afrin," he said.
He said Turkey will make Menagh Air base in Syria 'inoperable' if YPG terrorists do not withdraw from it.
Davutoğlu claimed that YPG is the strongest instrument of Russia in Syria and also an instrument of the Syrian regime.
"PKK in Turkey, PYD in Syria are pawns of Russia," he said, adding that PYD can attend Syrian peace talks as a part of the regime's side not on the opposition side.
He said that Russia is triggering discourse of a "possible world war" in an effort to agitate the world.
It is wrong to feed warmongering lobby but Turkey will take necessary measures for security, Turkish primer said.
He stated that Turkey would continue it attack on PYD until the group completely withdraw from Azaz town.
Turkey consider PYD a "bloody" terrorist organization. "It has blood on its hands," Davutoğlu said earlier.
Turkey presents the US with a comprehensive report on close ties between the PYD and PKK, the latter of which Washington considers a terrorist organization, he said.