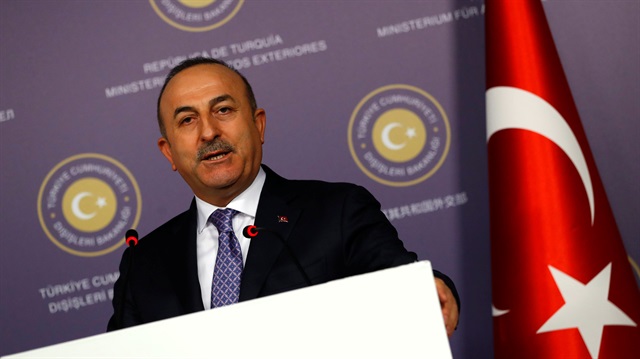 Turkish FM Çavuşoğlu speaks during a news conference in Istanbul
The Turkish foreign minister on Friday said the Afrin region in Syria would be handed over to Syrians once it was cleared from terrorists through Operation Olive Branch.
"After clearing them [terrorists], we will hand the region over to its real owners; namely, we will hand it over to Syrians," Mevlüt Çavuşoğlu said at an event in southern Antalya.
Cavusoglu also slammed the U.S. over its "double-faced" actions, providing arms to PYD/PKK terrorists and expressing concern for civilians as well as the length of the operation.
"Do not be double-faced, be honest," Çavuşoğlu said.
On Saturday, Turkey launched Operation Olive Branch to remove PYD/PKK and Daesh terrorists from Afrin.
According to the Turkish General Staff, the operation aims to establish security and stability along Turkish borders and the region as well as to protect the Syrian people from the oppression and cruelty of terrorists.
The operation is being carried out under the framework of Turkey's rights based on international law, UN Security Council's decisions, self-defense rights under the UN charter and respect for Syria's territorial integrity, it said.
Afrin has been a major hideout for the PYD/PKK since July 2012 when the Assad regime in Syria left the city to the terror group without putting up a fight.
The U.S. supports the PYD/PKK, considered by Ankara as the Syrian offshoot of the PKK, which has been engaged in a terror campaign against the Turkish state for more than three decades, which has resulted in tens of thousands of deaths.
American support for the terror group has long vexed Ankara, as Washington views the PYD/PKK-led umbrella group, SDF, as a "reliable partner" in its fight against Daesh and continues to provide it with arms and equipment in the face of strong objections from Turkey.
6 years ago