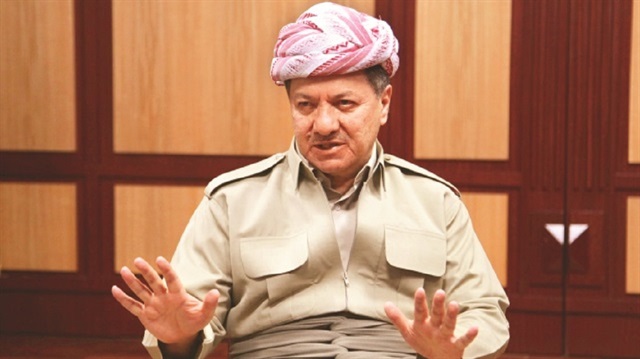 Kurdistan Regional Government (KRG) leader Masoud Barzani
The wealth of Kurdistan Regional Government (KRG) leader Masoud Barzani, which has been amassed through illegal activities, is estimated at $55 billion, according to a former senior KRG official.
Speaking exclusively to Yeni Şafak, the former Kurdish official said that Barzani, who led an illegitimate referendum backed by the U.S. and Israel, has built a mafia empire with his son, siblings and relatives, amassing wealth through illegal means and funneling money into his personal accounts despite the founding of a regional finance ministry.
The former official, who held a critical position in Erbil between 2009 and 2014, estimated Barzani's personal wealth at $55 billion.
Occupying over 45 oil fields between 2012 and 2017, Barzani amassed his personal wealth from various sources of income such as the Khabur border crossing, Korek Telecom, and natural gas and oil trading in addition to the money received from the central government.
The source recalled the incident when former KRG Finance Minister Rebaz Hamlan expressed his unease regarding the illegal activities carried out by Barzani, noting that "Hamlan led an anti-Barzani movement after the money sent to the regional government was deposited into Barzani's accounts. As Barzani continued to amass wealth in his own tribe, the region's population were left even more impoverished than they were prior to 1991."
He made investments in a large number of countries
According to a source in northern Iraq, Barzani has made sizeable investments in countries such as Turkey, UAE, Cyprus, and the UK, which were funneled directly to his tribe or other affiliated companies that operate in sectors such as navigation, logistics/transportation, foods, mining, contracting and oil trading, among others.
The former official also indicated that the border crossings of Khabur and Bashmak, on the borders of Turkey and Iran respectively, provide a vital source of income from oil trading for Barzani's kin, noting that "by building a mafia empire in Erbil, all profits go to one person."
An administration representative of the people, not the tribe
The source, who held a senior position in the Erbil-based KRG administration for five years, has likened the events in the aftermath of Barzani's illegal Sep. 29 referendum to "an earthquake that has resulted in severe losses" and noted that "the reverberations of this quake will continue to be felt."
Speaking on the topic of Lahur Talabany as an alternative for Barzani, the source noted that "the system and mindset in northern Iraq must change. An administration based on a more comprehensive basis of power-sharing must prevail in place of feudal policies. If this model of governing were to continue, Lahur Talabany will turn into an Öcalan or Barzani-like figure. An administration with a vision that is representative of all of the region's population must be set up in lieu of the current one," he concluded.
6 years ago