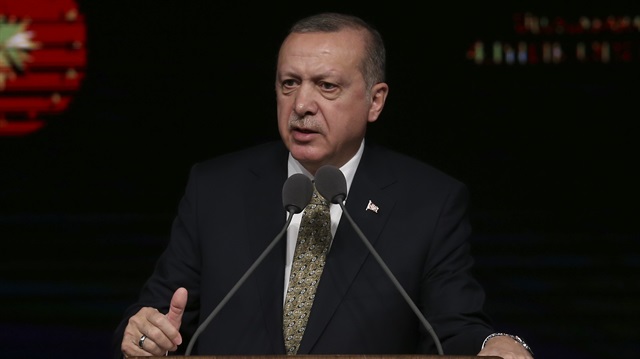 President Recep Tayyip Erdoğan said he hoped Turkey's military and the Free Syrian Army (FSA) would completely encircle the northern Syrian town of Afrin by Wednesday evening, a day after the armed forces said it had encircled the town.
Speaking to local administrators in Ankara, Erdoğan also said civilians in Afrin town were being evacuated in cars through a special corridor, as Turkish forces made substantial advances against terrorists in the nearly two-month-old offensive.
"We have edged even closer to Afrin, and the encirclement will be completed by tonight. Civilians are being lead out of Afrin through a special corridor," Erdoğan said.
"As of day 54 of Operation Olive Branch, some 3,500 terrorists have been neutralized and around 1,300 square kilometers of Afrin has been cleared of terror elements," he added.
The Turkish Armed Forces announced on Tuesday that the Afrin city center had been surrounded since Monday as part of Operation Olive Branch.
"If Turkey targeted civilians, Afrin would have been captured long ago. All precautions are being taken. We will clear Afrin, Manbij and our northern Iraq border east of the Euphrates of terrorists," Erdoğan said.
"We are checking the terror nests in northern Iraq at every chance. Soon, we will stomp very strongly on the terrorists there," Erdoğan said.
Foreign Minister Mevlüt Çavuşoğlu said last week that Ankara and Baghdad's central governments could start a joint military operation against PKK terrorists in Iraq after Iraqi parliamentary elections scheduled for May 2018.
Turkish warplanes regularly launch strikes against the PKK, which has camps in the mountains of northern Iraq, near the border with Turkey.
The president also commented on the death of specialized Sergeant Orhan Sürmen, who was martyred when a Quran rigged with a bomb by PKK terrorists exploded as he picked up the holy book in Afrin.
"They [PKK terrorists] are such low murderers that our soldier, our son was martyred by a handmade bomb rigged to a Quran. They have no faith," Erdoğan said.
Operation Olive Branch was initiated on Jan. 20 in Afrin to establish security and stability, eliminate terrorists of PKK/KCK/PYD-YPG and Daesh, and save locals from the terrorists' oppression and cruelty.