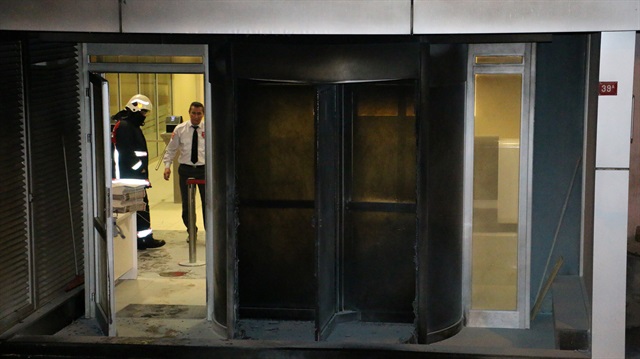 Assailants attacked the headquarters of Yeni Şafak daily newspaper with Molotov cocktails and long-barreled weapons in Istanbul early Thursday.
The building of Yeni Şafak daily was attacked by four masked men. It was reported that the men threw Molotov cocktails at the entrance of the building and opened fire.
No casualties were reported. After the attack, firefighters and police rushed to the scene of the attack and police cordoned off the area, while tight security measures were also taken around the building.
Police have launched an investigation into the attack.
Assailants launched an assault on the headquarters of Turkish Akit daily newspaper with Molotov cocktails and weapons in Istanbul early Thursday, the same night the building of another newspaper, Yeni Şafak daily, was attacked.
The attack on Akit newspaper followed an earlier, very similar attack targeting Yeni Şafak.
The incident occurred in the Küçükçekmece region of Istanbul at 05:30 local time.
A group of unidentified men threw Molotov cocktails, while several of them opened fire on the building.
Erdoğan condemns attacks on two Turkish newspapers
Erdoğan said that those who responded harshly when windows of Hürriyet's main office were smashed during a riot, did not give the same response against the assaults targeting Yeni Şafak and Yeni Akit.
"I will carefully follow what response will be heard from those, who set the world on fire when windows of another newspaper's office were smashed during an incident, which is riot, not armed or bomb attack."
"Let's see what their response will be. I will also follow closely the stance of the political party, which pointed those newspapers at targets by throwing its printed editions from the rostrum just because they do not like their publication policies."
After Erdoğan, Turkish government officials and prominent journalists condemned attacks launched by unidentified assailants on the Istanbul offices of the two leading newspapers, Yeni Şafak and Akit dailies early Thursday.
Turkey's Interior Minister Efkan Ala visited Yeni Şafak newspaper and Turkish television TVNET to offer support afterThursday's attack.
Also, Turkish Prime Minister Ahmet Davutoğlu made a phone call in solidarity with the two Turkish newspapers, expressing his displeasure with the recent attack.
'No violence against journalists is acceptable'
The United States Ambassador to Turkey, John Bass, and the German Ambassador to Turkey Martin Erdmann have condemned the attacks on the headquarters of Turkish Yeni Şafak and Akit daily newspapers in Istanbul.
"No violence against journalists is acceptable. Free and polyphonic press is essential to a democratic society," said Bass.
Erdmann expressed his hope that the incidents would be clarified rapidly.