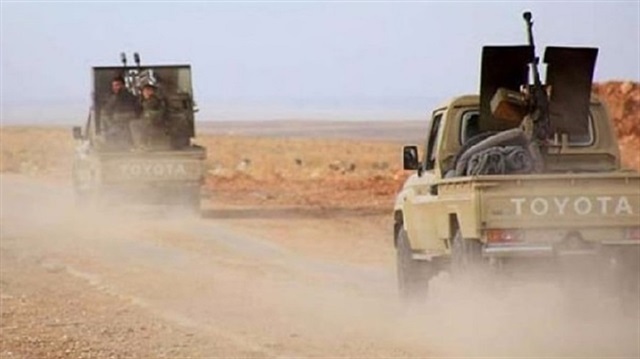 Kurdistan Workers' Party (PKK) and its Syrian offshoot the Democratic Union Party (PYD) terrorist organizations seized approximately 56 kilometers of Syria's Deir ez-Zor's countryside without resistance from Daesh.
The U.S.-backed PKK/PYD terrorists operate mainly in Deir ez-Zor's oilfields positioned east of the Euphrates River close to the Iraqi border.
The al-Omar, Tanak, Ward, Afra, Kewari, Jafra, Jarnuf, Azrak, Kahar, Sueytat and Galban oilfields are all located on the east of the Euphrates River, which divides Deir ez-Zor into two. These oilfields, of which al-Omar is the largest, constitute approximately one third of Syria's total energy production.
The PKK/PYD controls approximately 350 small wells in the Hasakah province. On a daily basis, these wells produce approximately 35,000 barrels of oil. The Syrian regime is the biggest buyer of the terrorist group's crude oil. The PKK/PYD uses the remaining oil.
Due to the war, the PKK/PYD is able to sell one barrel of oil for approximately $70, which is higher than international prices. In this way, the terrorist organization makes approximately $70 million monthly from the oil wells in Hasakah alone.
US, RUSSIA CLASHES
Located in Syria's east Deir ez-Zor, which is under Daesh-control, is witnessing a struggle between Russia-backed regime forces and U.S.-backed PKK/PYD forces.
The Assad regime, which receives air support from Russia and field support from Iran, advanced through the Syrian Desert and entered the city center that had been under Daesh control for three years.
Regime forces and the PKK/PYD are continuing to simultaneously advance through Deir ez-Zor's northeastern countryside. The terrorist organizations declared the launch of their U.S.-backed campaign on Sept. 9.
The PKK is listed as a terrorist organization by Turkey, the European Union and the United States. The PKK has been conducting armed violence in the southeastern part of Turkey since 1984. More than 40,000 people, mostly civilians, have been killed in the three-decade long conflict.