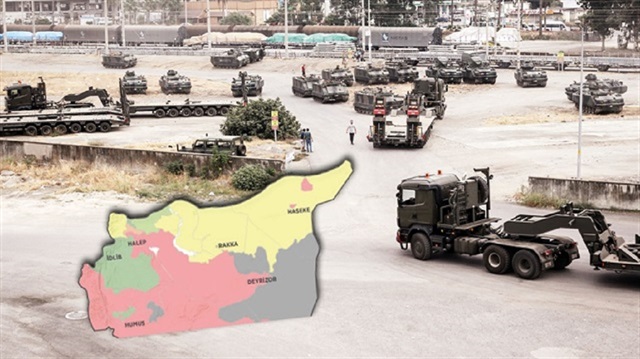 The Turkish Armed Forces (TAF), which is preparing for a security operation in Syria's Idlib, has instructed the groups linked to the Free Syrian Army (FSA) to be prepared.
Turkish troops who will ensure security in the region will initially be accompanied by over 5,000 FSA troops. The only pending detail of the operation is the Hay'at Tahrir al-Sham (HTS) opposition group.
The Syrian side of the Hatay-Idlib borderline, where Turkish forces continue to deploy military reinforcements, has lately seen a great increase in activity.
The FSA and TAF conducted the Operation Euphrates Shield to improve security, support coalition forces and eliminate the terror threat along the Turkish border.
The Idlib security operation will take place in the Euphrates Shield region and at the Idlib-Lattakia-Hama line.
FSA RESTRUCTURING
The FSA forces have undergone a restructuring. Brigades, battalions and divisions are now united under a "mass" roof. In the Euphrates Shield region, the Feylak al-Sham and Sultan Murat Masses joined to form an army and work with the FSA and TAF.
Approximately 8,000 FSA members were trained according to military standards. FSA troops have completed the majority of their vehicle, weapons and equipment preparations in accordance with the instruction regarding the Idlib operation given by the TAF three days ago.
GROUPS, KEY FIGURES ABANDONING HTS
HTS, which is formed of six large and 14 smaller opposition groups, controls many points across Idlib. HTS, which has approximately 15,000 troops, was formed from the al-Nusra Front.
The group has announced that it would not recognize the decisions taken at the Astana peace talks in Kazakhstan and that it would initiate armed resistance in case of an intervention in Idlib.
Abdullah Muhaysini and Muslih al-Aliyani, two of the most important names of the HTS, declared that they left the group.
Constituent groups Nureddin Zengi and Gogel Kefranbul, which have approximately 6,000 fighters, also abandoned HTS.
NUSRA FRONT TO BE ISOLATED
Sources on the field claim that when the Idlib operation is launched, many more groups and figures will withdraw from the HTS.
Thousands of fighters on the Idlib-Hama-Lattakia front and Aleppo countryside have refused to fight against the TAF, and have said that they will join the TAF forces once the operation is initiated.
It is believed that the probable HTS resistance against the operation will only last a few days, and that at the end of a week, the TAF will be positioned at the targeted regions. East Turkestan fighters who play a critical role in the Idlib equation have withdrawn from the Hama-Sahil al-Gab region.