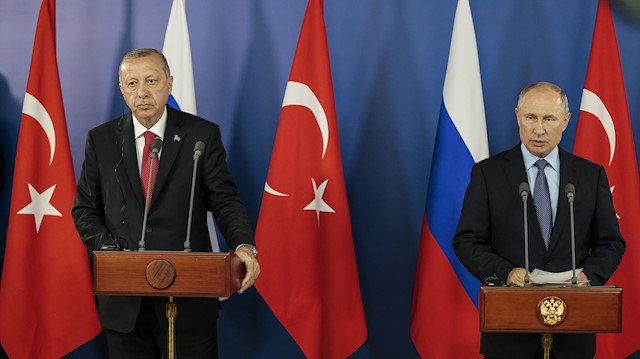 Turkish President Recep Tayyip Erdoğan and Vladimir Putin
Ankara and Moscow discussed joint cooperation in defense industry, Turkish President Recep Tayyip Erdoğan said on Tuesday after a closed-door meeting with his Russian counterpart Vladimir Putin in Moscow.
The closed-door meeting between the two leaders lasted one hour and 20 minutes.
Russian President Vladimir Putin said that he and his Turkish counterpart Tayyip Erdoğan have outlined additional joint measures aimed at rooting out "terrorists" in Syria's Idlib area.
"Together with Turkey's president we have outlined additional joint steps to neutralise the terrorists' nests in Idlib and normalisation of the situation there and in the whole of Syria as a result," Putin told a joint briefing with Erdoğan.
Putin, speaking after talks with Erdoğan, also said they had underlined that Syria should remain a unified country.
Earlier Tuesday, Erdoğan and Putin attended the inauguration ceremony of the International Aviation and Space Salon MAKS-2019, one of the world's leading events in its field.
Putin showed Erdoğan Su-57 fighter jet at the air show, the last generation Russian stealth aircrafts. The leaders also examined Su-35 fighter jets, Ka-52 military helicopter and Mi-38 transport helicopter.
On Tuesday Turkey also took delivery of a second batch of Russian S-400 air defence equipment.
4 yıl önce