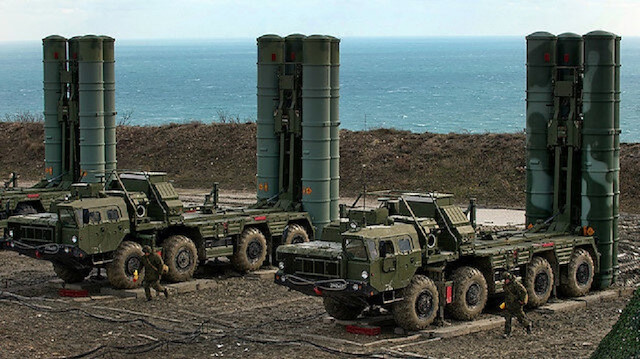 The Iraqi government has gravitated toward the Russian defense industry amid simmering tensions between Washington and Baghdad after the killing of top Iranian General Qassem Soleimani, in a move that might trigger U.S. sanctions.
Members of the Iraqi parliament said the country was considering purchasing the Russian-made S-400 air defense missile systems, the Wall Street Journal on Monday quoted Karim Elaiwi, a member of the Iraqi parliament's Security and Defence Committee, as saying.
"We are talking to Russia about the S-400 missiles but no contracts have been signed yet. We need to get these missiles, especially after Americans have disappointed us many times by not helping us in getting proper weapons," Elaiwi said.
Another Iraqi parliament defense committee member, Abdul Khaleq al-Azzawi, confirmed the country's interest in buying the S-400s.
"We authorized the prime minister to get air defense weapons from any country he wants and we authorized him to spend the money for it, from any country," al-Azzawi said.
He added that it doesn't matter whether Iraq makes the purchase from Russia or another country.
Tensions have soared in the region since the U.S. assassinated Qassem Soleimani, the head of Iran's Islamic Revolutionary Guards Corps' (IRGC) Quds Force and second most powerful man in the country, in a drone strike earlier this month outside Baghdad International Airport.
Iran retaliated by firing a dozen ballistic missiles at Iraqi bases housing U.S. troops.
Baghdad's latest move to negotiate the purchase of the S-400 air defense systems from Moscow took place three months ago when the country's national security adviser traveled to Russia.
But the talks coincided with escalating developments in the Middle East, months-long political unrest in Iraq and the resignation of Prime Minister Adel Abdul-Mahdi, causing a delay on the negotiations.
Ankara has also purchased the S-400s and has been at loggerheads with Washington over the missiles, which Washington says is not compatible with NATO defenses and poses a threat to its F-35 stealth fighter jets. Ankara began receiving the S-400 system last July but it is not yet operational.