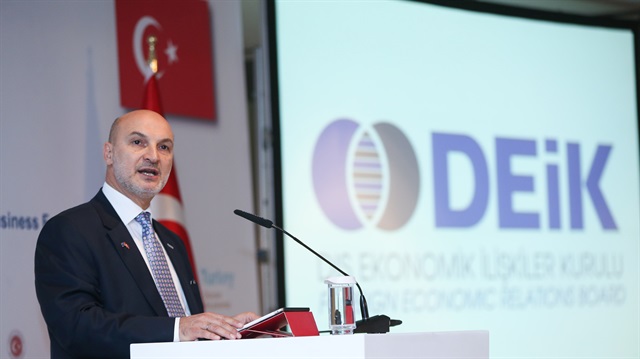 The political intimacy between Turkey and Pakistan, which has especially become visible recently, is accompanied by investment opportunities for the business sector. The trade volume with Pakistan which is currently $600 million, is expected to reach $1 billion by the end of this year.
Turkish companies' investments in energy and infrastructure significantly affects the country's social life, according to the firms operating in those sectors.
Turkish President Recep Tayyip Erdoğan's visit last week and the economic vision he put forward for bilateral relations are widely accepted by the business world.
'$50-billion business'
Ömer Cihad Vardan, the chairman of the Committee of Foreign Economic Relations (DEIK) said, ''There is a lot to do for Turkey,'' by citing Pakistan's $50-billion investment project of energy and infrastructure renewal.
Highlighting that Pakistan extremely needs great investments in energy, he first said, ''We can establish various power plants to extract energy from all kinds of sources. There is a huge potential here in renewable energy. As an experienced country in energy issues, we can work together with Pakistan.''
Vardan underlines Turkey's enormous potential in the construction sector by saying, ''Our country has enough capacity to assist Pakistan in its superstructure renewal program.'' Also, emphasizing Turkey's experience in health investments as a model for Pakistan, he explained that through both countries' equipment in the textile industry, business relations would gain impetus.
He added, ''Once the Free Trade Agreement, which is in the making now and expected to enter into force before 2018, becomes concrete, the trade volume between both countries will boom.''
Huge trade potential
Vardan, giving information about Turkish companies investing in Pakistan, said, ''For instance, the Anadolu Group operates in the beverage industry with 6 factories and has around 5,000 employees. At the same time, Koç Group is planning to have a base for exportation operations across the region by buying Dawlance, an outstanding white appliances producer. Earlier, they bought Arctic, which had operated with 15,000-product capacity in Romania and now they have developed it to a certain degree at which it can produce around 3 million goods. We should take same strategic steps in Pakistan, too, and carefully evaluate this investment capacity.
"It is necessary both to develop the manufacturing sector in the region and at the same time to perform exportation operations from Turkey. What we are seeing is a huge potential, but it lacks the structure to carry it out. In this new era, Pakistan will be our production and exportation base thanks to our companies' enterprises.''
'Albayrak touches upon the heart of the country'
By citing Albayrak Group's investments in Lahore and Islamabad as examples, he said, ''The Albayrak Group with approximately 11,500 employees in Pakistan, operates in tertiary sector. One of them is transportation. It offers great services as metrobus and taxi administration. What we are talking about is a country with around 200 million people. Despite its population, Pakistan's transportation substructure is quite weak. They are therefore very pleasant with services offered by Albayrak and want them be continued. In this way, we really need to appreciate Albayrak, because it touches upon the very heart of Pakistan and contributes to its social fabric.
"Considering a 200-million population, there is a wide variety of investment opportunities in every area. Labor is very cheap there. People need jobs. If you provide them opportunities, not only do you address Pakistan's domestic market, but you can establish companies which can perform exportation from there.
"As long as we carry out those operations successfully, we will see that they will embrace Turkish industrialists and the brotherhood will be strengthened. In this sense, I agree with what our president said. There are a great deal of opportunities in Pakistan for Turkey.''
$600-million trade volume
More than 100 Turkish companies, operating in Pakistan, have a strong voice in mostly energy, finance, infrastructure, transportation, service and construction. Turkey's exportation volume to this country was over $288 million. While Turkish firms perform exportation to Pakistan in 26 sectors, Turkey imported $210-million textile fiber, nylon, cotton, polyester and garments. The trade volume between both, takes place around the level of $600 million. By the end of 2014, Turkish construction firms had accomplished 45 projects, amounting to $2.7 billion.