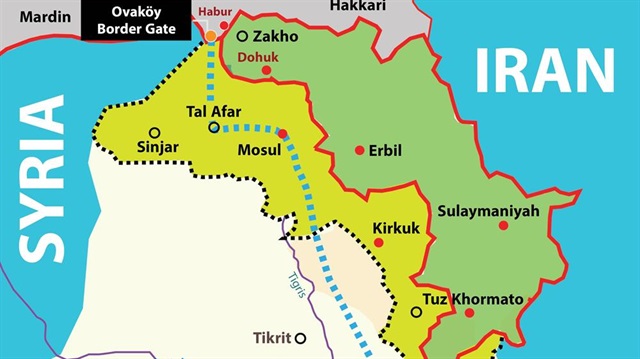 Turkey's Ovaköy border crossing with Iraq must be opened immediately in a bid to find an alternative to the Fishkhabur gate currently being used by Washington to supply weapons to terrorists from the Kurdistan Workers' Party (PKK) in Syria, according to a prominent Iraqi politician.
Speaking exclusively to Yeni Şafak daily, the Iraqi Turkmen Front's representative in Turkey Hicran Kazancı pointed that the Ovaköy must be opened urgently "without delay."
"The route that stretches from Ovaköy to Baghdad carries crucial trade, military and political importance. The transport channel that will be opened from the point where Iraq, Turkey and Syria intersect all the way to Baghdad through Talafer and Mosul, will be a great economic, as well as political and military success."
Kazancı stressed that such a route will deal a major blow to the U.S., putting an end to its supply line established between Syria and Iraq.
"If the Ovaköy-Baghdad project is accomplished, the route being used by the U.S. to send arms to the PKK will be closed off."
The U.S has supplied the PKK/PYD terror organization with more than 5,000 truckloads of weapons to allegedly use in the fight against Daesh, despite Ankara's warnings that the group is the Syrian offshoot of the PKK terror organization.
The PKK is listed as a terrorist organization by Turkey, the European Union and the United States. The PKK has been conducting armed violence in the southeastern part of Turkey since 1984. More than 40,000 people, mostly civilians, have been killed in the three-decade long conflict.
PKK terrorists in Sinjar
"The operation carried out by the Hashd al-Shaabi militias over the past few days were nothing but a cover-up attempt. PKK terrorists donned Hashd al-Shaabi uniforms in a bid to circumvent a possible Turkish intervention. There were previously Peshmerga forces in the region. When Daesh arrived in the region, they surrendered to the PKK and fled. The PKK founded a front group under the name of 'Shingal Resistance Units.' Now the group that they refer to as local forces is a structure made up of PKK terrorists," he said.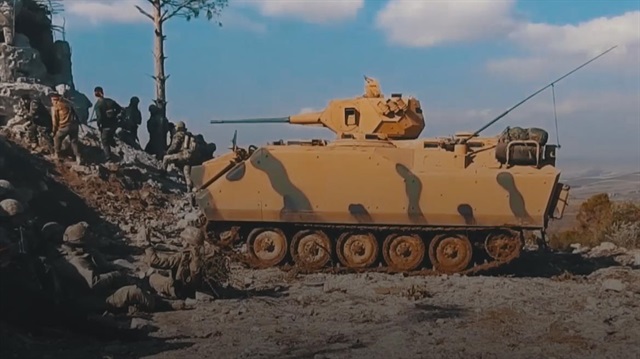 U.S.'s PKK convoy
The U.S., which supplied the PKK terror organization with 5,000 truckloads and 2,000 cargo planes filled with weapons, munitions and armored vehicles, continues to support terrorists who occupy the region between the borders of Syria and Iraq.
According to local sources, another U.S. convoy, which was loaded with vehicles and containers crossed the border to Syria from Iraq a few days ago.