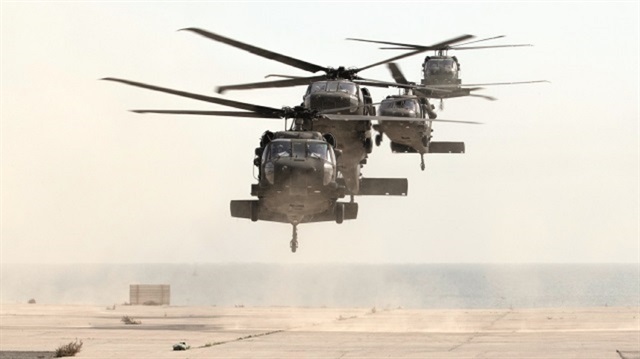 Syrian-based online news portal the Euphrates Post has published a video showing what appears to be two U.S. Blackhawk helicopters consolidating the U.S. presence in the Deir ez-Zor region, which is one of the largest oil reservoirs of Syria.
According to the report, U.S. forces have built a new and advanced military base near the oil reservoirs of al- Mayadeen's al-Omar oilfield in the southeastern part of the city.
Retired Colonel Alexander Zhilin, head of the Moscow-based Center for the Study of Applied Problems of National Security, spoke to the Russian Federal News Agency and said that the there was an obvious trend for the U.S. Department of Defense Pentagon to create new facilities in and around Syria's largest oil and gas fields.
"The number of U.S. bases in the region has increased to 25. The U.S. continues to build new bases. The main purpose of it is to control the areas close to oil reservoirs and energy resources. At the same time, they don't believe they should be accountable to anyone," Zhilin said.
The U.S. has already built 20 bases to support the Kurdistan Workers' Party (PKK)'s Syrian branch, the PYD, in Syria.
The PKK/PYD terror group, with U.S. backing, has since 2014 been in control of Syria's major oilfields, amounting to 70 percent of oil production, including its biggest al-Omar, and its biggest gas refinery, Conoco.